Image by Maitane Romagosa and Chineme Elobuike for Thrillist
Image by Maitane Romagosa and Chineme Elobuike for Thrillist
Welcome to The Fasties, Thrillist's third-annual fast food awards! The awards feature more than a dozen categories celebrating all the best foods that came out of drive-thru windows over the past year—from the Best Coffee Nuggets to the Best Spicy Chicken Sandwich, and many more. Check out the full list of categories and winners.
When you conjure up an image of fast food, your mind probably jumps to bacon-filled cheeseburgers and cheese-laden fries. Oily paper bags are the name of the game, but you'd be remiss to forget that the contents of those bags can vary greatly.
Onion rings seem like a side that all fast food chains would offer. After all, if you have onions and a fryer in the kitchen already, why not make full use of them? Yet they're still far more prevalent in sports bars than drive-thrus.
For better or worse, 10 major fast food chains have shattered the status quo by agreeing to fry up onion rings for their fans. We set out on a savory adventure to determine which of them are worth ordering, based on five key metrics: crispiness, construction, seasoning, breading-to-onion-ratio, and overall enjoyability.
Some chains blew our minds with their ability to craft a perfect O-ring. Others, well, proved why onion rings haven't caught on as the fast food staple you may think they are.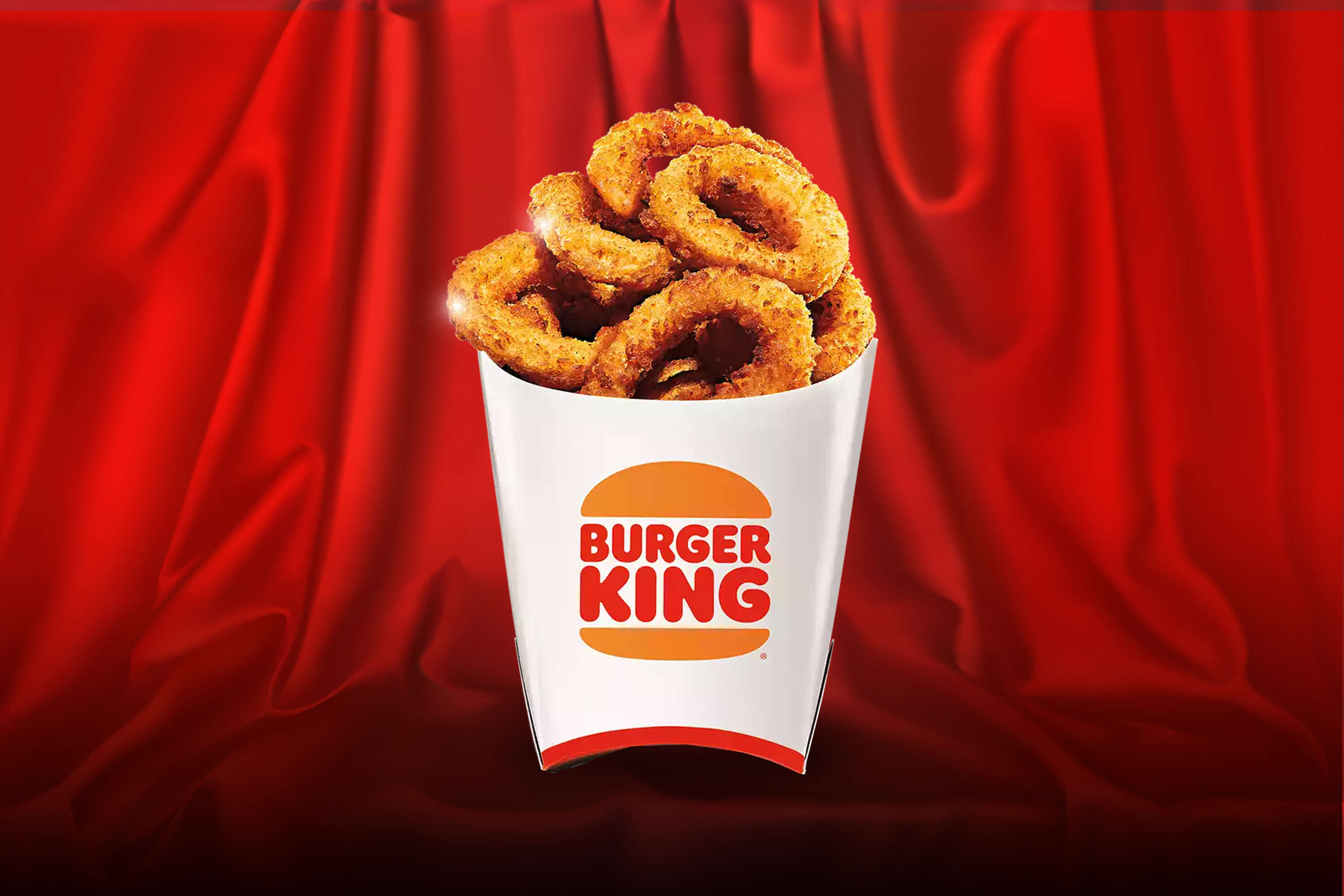 10. Burger King: Onion Rings
Fast food isn't supposed to be of the highest quality, but that doesn't give chains a pass to serve mushy circles of breading and call them onion rings. Unfortunately, Burger King inched dangerously close to that line. The highlight of Burger King's onion rings is that they're very snackable: They're small, they hold together, and they don't leave a pile of crumbs in your lap. Still, it's hard to ignore the fact that they're soggy, unseasoned, and only contain the tiniest slivers of onions beneath the layer of fried batter. It's not that they're gross, it's just that their flavor profile is one-note—and that note is oil.
9. White Castle: Onion Rings
At a chain known for teeny burgers, it's fitting that White Castle's onion rings seem to be made with teeny onions. The rings here are anything but memorable—one could even say that, without a dipping sauce, they're aggressively bland. Soft, oily and unsatisfying, White Castle's onion rings are all breading and no bite. Stick to the things White Castle does well, like its Sliders.
8. A&W: Onion Rings
If you're a fan of the onion half of the phrase "onion ring," boy do you need to head to A&W ASAP (A&S&A&P?). There's not a ton of breading on these bad boys, but there sure is a lot of onion. And sure, it could use some seasoning. Any seasoning, really. A little bit of black pepper would go a long way here. While the outside is reasonably crispy and the onion flavors are front and center, something is missing from this onion ring. It lacks a certain pop. Perhaps if the breading packed more flavor. What if they covered the onion rings in Cheetos dust? We'd sign up for that. In the meantime, it's tough to get too excited about the rings here.
7. Carl's Jr./Hardee's: Onion Rings
Most visitors to Carl's Jr./Hardee's are there for the burgers. Hell, this very onion ring is a major component of one of the best burgers at the chain, the Western Bacon Cheeseburger. And while the onion ring's importance to that burger is undisputed, it's not essential to order this onion ring as a side. Yeah, it's crispy and well-constructed, with a little more breading than onion. The onions aren't greasy or stringy, either, so a strong enough bite will mean you don't have shove stray onion pieces into your mouth for the next couple minutes. But it lacks almost any kind of seasoning, and it's not addictive in the way that eating one tasty French fry makes you want to grab another handful. If you need an onion ring fix and you're going to Carl's Jr., you're better off ordering a Western Bacon Cheeseburger—it offers plenty of onion ring flavor without forcing you to commit to an order of the middling side.
6. Cook Out: Onion Rings
This regional chain's onion rings are sizable and don't overwhelm the onion with breading. The breading is crispy and you can bite into it and snap the onion in one fell swoop, which makes them easy to eat, and easy to enjoy. The onions don't get too mushy inside the breading, either. An order contains plenty of onion rings to snack on and includes a side of Cook Out sauce (a zesty mayo-based sauce) for dipping pleasure.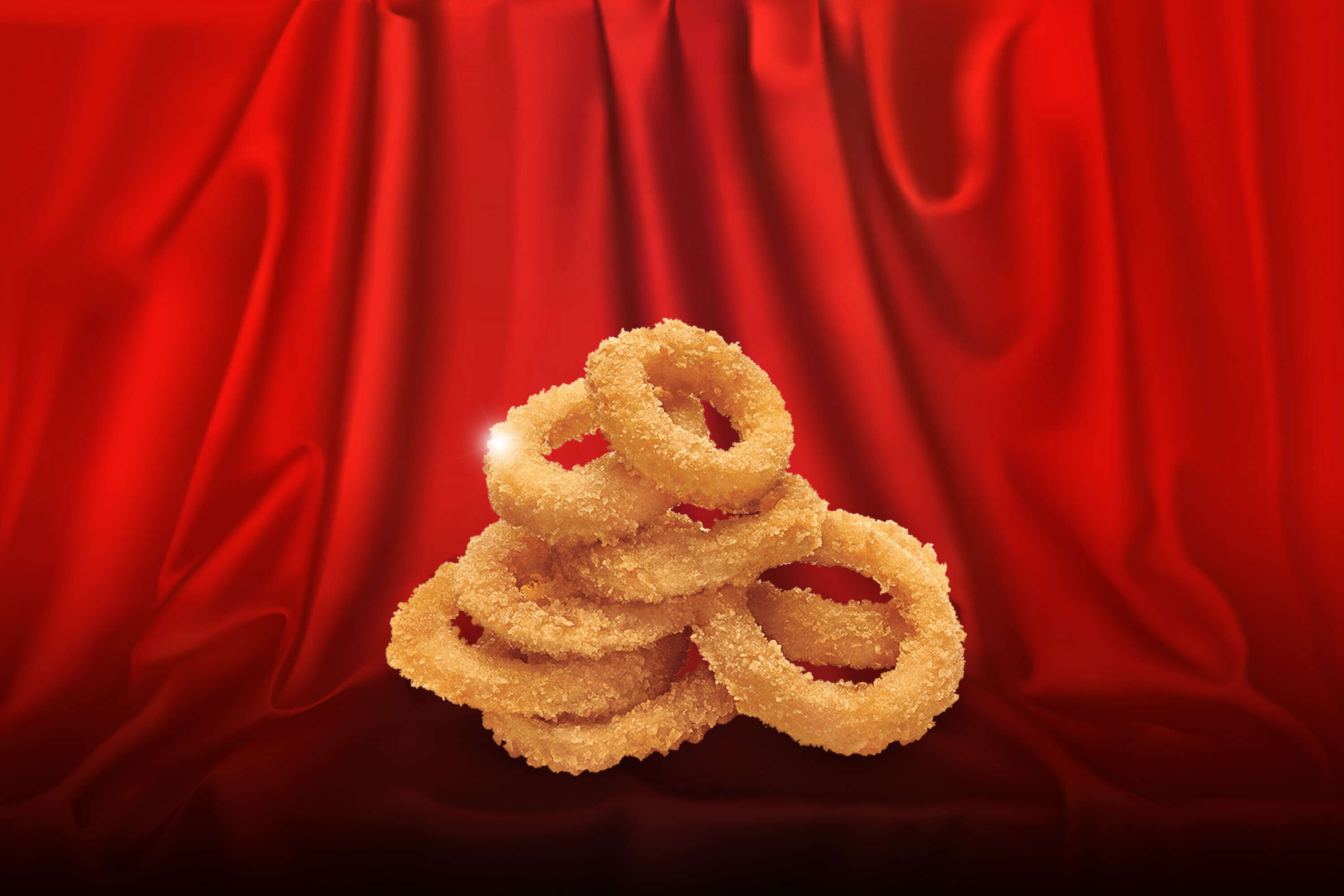 5. Jack in the Box: Onion Rings
Where else but Jack in the Box can you order a delicious monstrosity like the Chick-N-Tater Melt Munchie Meal, which gives you multiple chicken patties, bacon, hash brown, three cheeses, and ranch on a croissant? Oh, and then adds tacos and fries, and a small fountain drink. The entire brand's concept appears to be for the lulz, and it's part of what makes it great. But the chain can also do the small things right, which brings us to the unsung hero of the sides menu: the onion rings.
The sides menu at Jack in the Box is a stoner's fever dream, with Stuffed Jalapeños, Bacon Cheddar Potato Wedges, and Jumbo Egg Rolls. Skip that and roll with an order of simple, filling, panko-breaded onion rings. The panko does the lion's share of the work here, lending the ring an ultra-crispy bite that still packs plenty of onion flavor. Some would say there's too much breading, but only a fool doesn't want more panko. And while it's a little greasy (and could use some black pepper), these onion rings are a hearty, delightful complement to any Jack in the Box entree.
4. Dairy Queen Grill & Chill: Onion Rings
Big onion rings are automatically delectable, and by fast food standards, Dairy Queen's are substantial. They come with lots of crumby breading, which makes a mess in the car and on the couch, but it also allows for an unbelievably satisfying crunch that few onion rings possess. Unfortunately, as is the pattern with fast food sides, DQ's onion rings aren't incredibly flavorful, but even so, they're an oily joy for those moments when your mouth is craving a little grease.
3. Culver's: Onion Rings
Culver's didn't attract millions of hungry fast food lovers from Wisconsin and beyond just on the strength of its ButterBurgers and Fresh Frozen Custard alone. The sides are what makes a meal at Culver's complete, and it offers plenty of craving-inducing options, from Mashed Potatoes & Gravy to Wisconsin Cheese Curds and its addictive Crinkle Cut Fries. It's no surprise that the Midwestern favorite knows how to whip up a side—and it certainly does so with its Onion Rings.
Culver's claims its Onion Rings are "thick-cut," but based on our recent order (and compared to the rest of the fast food rings), it's easily got the thinnest edible ovals with the least amount of breading, as well. That's not a knock. What results is an exceptionally crispy, crunchy onion ring—and you'll have zero risk of stringy onion debris dangling out of your mouth after you bite into it. There's plenty of onion flavor, and it's actually well-seasoned, so it won't feel like you're eating straight-up deep-fried breading. Would we pass these up for an order of cheese curds? Um, 1000% yes, but that's what you're supposed to do at Culver's.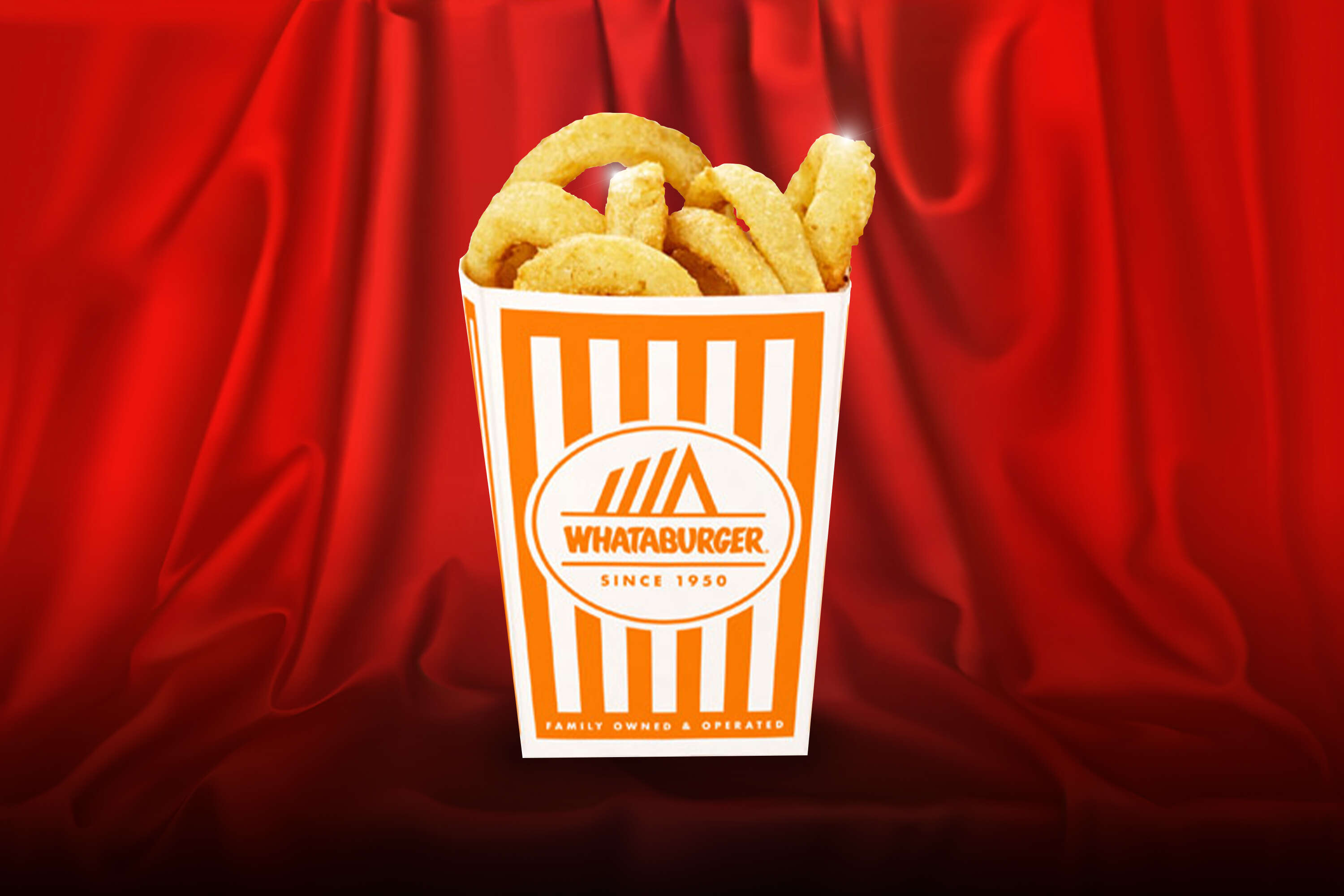 2. Whataburger: Onion Rings
Skip the apple slices when you're looking to upgrade your Whatameal and opt for these golden rings of sweet, tangy onion (you can even get them during breakfast hours). The not-too-salty crispy batter has a slight hint of garlic that adds a touch of nuance, plus a batter-to-onion ratio allowing the root vegetable to really shine. As with most onion ring experiences, your order will include the teeny-tiniest of rings to mammoth ones almost the size of CDs. For the ultimate O-ring eating, make sure to add on a dipping sauce (Jalapeño Ranch always does the trick for us) or load up the rings right on top of your burger for some added crunch.
1. Sonic Drive-In: Hand Made Onion Rings
Picture this: You pull up to a Sonic speaker, ready to order the usual cheeseburger with a side of Chili Cheese Tots and a Blue Raspberry Slush, when something comes over you. What if I don't actually want Chili Cheese Tots today, you think. What if I only order them out of habit because they're what I know best? In a moment of bravery, you slam the "Press to Order" button with no firm plan in place other than to order something different from what you're accustomed to. "I'll get a cheeseburger," you mutter nervously, "a Blue Raspberry Slush, and, uhhh, a side of, uhhhh... Let's go with a side of the Hand Made Onion Rings."
You just made the best decision of your lifetime—no shade to Chili Cheese Tots—because Sonic might be a drive-in, but its onion rings turn out. They're large and thick with maximum crisp, they sport a rock-solid batter-to-onion ratio, and the onion stays firmly put in its fried shell. The breading is sweet and the onions, too, leaving perhaps only a small sprinkle of sodium to be desired—but that's where Signature, BBQ, and Honey Mustard sauces come in.
These are a shining example of onion rings done right. When a fast food chain's onion rings could easily pass for a full-service restaurant's, you know you've struck deep-fried gold. Sonic might as well string a ribbon through a big one and wear it as a medal.
Fast Food Onion Rings FAQ
Who invented onion rings?
The concept of an onion ring dates back several centuries. British recipes from the early 1800s describe a battered and fried onion dish, while Indian pakoras (mixed vegetables coated in chickpea powder and fried) have been around even longer. Recipes began to surface in the US in the early 1900s in newspapers in New York and Indiana. Texas-based chain The Pig Stand claims to be the inventor of the onion ring; these recipes predate its opening, although it played a big part in growing the popularity of onion rings. A widely distributed 1930s recipe from Crisco also helped their rise to national prominence.
Does McDonald's have onion rings? What about Wendy's?
Onion rings have been on the McDonald's menu in several countries, including Australia and the United Kingdom, but aren't available in the US. Wendy's offers a crispy onion option on several of its burgers and sandwiches, but does not serve onion rings as a menu item. However, chains like Sonic Drive-In, Hardee's/Carl's Jr., White Castle, and Jack in the Box can help fulfill your fried onion needs.
Can you reheat onion rings in an air fryer?
Like many other foods, onion rings and air fryers go great together. Sites like The Fork Bite and Cooking Chew recommend spraying leftover onion rings with cooking spray and putting them in the air fryer for about 10 minutes on 350 degree heat, flipping them halfway through the cooking process.
What's the best kind of onion for onion rings?
Most recipes call for sweet onion varieties, including Vidalia or Maui onions, as their less-pungent smell and flavor lends itself well to onion rings. However, yellow and white onions can also be used. Other types of onions, like shallots and scallions, are not typically used to make onion rings.
When is National Onion Rings Day in 2022?
Onion ring aficionados around the country celebrate National Onion Rings day on June 22 of each year. Whether you're battering and frying your own at home or heading to your local diner, late-June is the perfect time to enjoy a plate of onion rings.