7 Fast Food Tacos, Ranked From Soggy to Crunchy Excellence
Emily Carpenter/Thrillist
It's hard to define what constitutes a basic fast food taco. Does it have to be hard-shelled or steamy soft? Made with a flour tortilla or corn tortilla? Beef or chicken, salsa verde or pico de gallo? Some tacos have cubes of fire-grilled steak and many sport streaks of yellow cheddar. Across the fast food board, tacos have a lot of range -- making it difficult to rank every single taco out there. But this is the type of challenge we were born to face, so we did.
While recognizing the challenges of ranking markedly different tacos, we decided to set out on a taco quest to discover who makes the best fast food taco. Based on the variety of tacos out there, we had to narrow our candidates. We relied on the simplest tacos that we think embody each popular chain. And if, like Burger King, the restaurant had only one type of taco on the menu, that's the one we went with. The ranking itself considers several factors: Does it have varying textural components? Are the fillings compatible? Is this a taco I would definitely consider eating again? Are these tacos actually the value they appear to be?
Of course, the original Del Taco taco makes an appearance, as does Jack in the Box's defining two-for-a-dollar tacos. And yes, we have Taco Bell's Crunchy Taco in the mix as well. Every fast food chain and its respective taco offering is welcome here, but only one can be the best. And after eating through every fast food taco we could get our hands on for this story, here are our extremely scientific conclusions: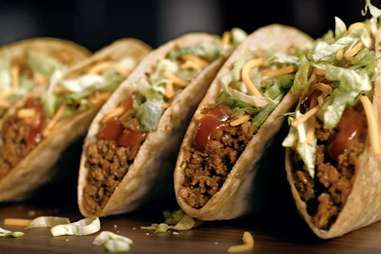 7. Burger King: Crispy Taco
Price: $1.00
Build: Mushy seasoned beef, shredded lettuce, cheddar cheese, and taco sauce in a deep fried tortilla shell
Why we chose it: It's the only taco on BK's menu.
The verdict: I'm not sure we should even define this item as a taco. Tacos are sacred, but BK's version feels unholy. The first time I tried these tacos, back when they first arrived on the chain's menu in the summer of 2019, I described the texture of the meat as "sludgy." That's not a good start. In addition to the wet, pulverized beef, the lettuce was translucent and cut into giant chunks, the sauce was watery and lacked depth of flavor, and the shell is entirely too rigid to enjoy biting into it in any setting. It's like cutting your own mouth with a shard of a tortilla chip. The saving grace is the cheddar cheese -- salty and melty -- but that isn't enough to carry this taco. Burger King ought to stick to what it does well: burgers.
6. Carl's Jr./Green Burrito: Crunchy Beef Taco
Price: ~$2
Build: Ground beef in a crispy corn tortilla with shredded lettuce, four-cheese blend, and much-needed hot sauce
Why we chose it: It's the only taco available from Carl's Jr.
The verdict: If you want to find a Green Burrito, you're first going to have to find a Carl's Jr. That's because it's a concept owned by the same folks behind Carl's Jr./Hardee's, and it's only available inside select Carl's Jr. locations. What, you thought the company behind two extremely similar fast food restaurants with entirely different names would make finding it easy on you? Sadly, it's not worth seeking out. But first, some good news! The hot sauce's necessary punch of flavor and the solid four-cheese blend valiantly attempt to cover up for the shortcomings of the beef, which is an oily mess that soaked through my to-go bag. The beef is the weak link in this taco -- and considering how stellar Carl's Jr.'s Beyond Meat burger is -- it's likely only a matter of time before you can upgrade this with some plant-based "meat" crumbles.
Price: $1.29 for two tacos
Build: Seasoned beef, lettuce, a surprising slice of American cheese, shredded lettuce, and taco sauce in a deep fried tortilla shell
Why we chose it: It's the only taco on Jack in the Box's menu, aside from the mini tacos.
The verdict: Once upon a time, when I was in middle school, I would eat Jack in the Box tacos every weekend before attending Thai school. Yes, every single weekend. There's something about the way the pair of tacos -- as an order of Jack in the Box tacos comes with two -- taste that sends me back in time. Nostalgia aside, however, even I can say these aren't the best tacos in fast food.
The meat within the tacos is a tad mushy, though salty and seasoned. The texture is almost like the meat has been ground too fine and rendered into a form not unlike refried beans -- soft, slippery, buttery. But taco meat shouldn't be buttery, dare I say spreadable. I appreciate the inclusion of a slice of American cheese, which ends up melting and blending in with the seasoned beef. Jack in the Box's hot sauce enhances the experience as well, and the shredded lettuce is entirely fine. What sets Jack's taco apart from the rest is the fact that the whole thing is deep fried. This sounds delicious in theory, but makes for a shell that shatters easily. But, at $1.29 for two tacos, I wouldn't complain too much. Sometimes it's nice to eat like you're 12 again.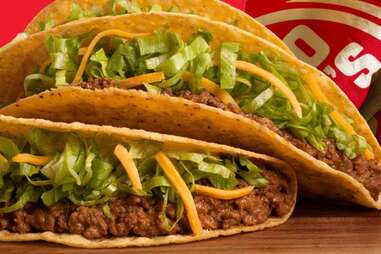 4. Taco John's: Crispy Taco
Price: ~$2
Build: Crispy shell made in-house, ground beef, lettuce, cheese, mild sauce
Why we chose it: It's Taco John's simplest, purest taco.
The verdict: It's crazy that a taco served from a chain that began in the late '60s in Cheyenne, Wyoming is this good, but here we are. For around $2, a corn tortilla filled with ground beef, mild sauce, cheese, and lettuce could be all yours. The corn tortilla doesn't completely disintegrate with every single bite, the ground beef is well seasoned and plentiful, and the mild sauce adds just enough heat to keep things interesting. The lettuce is the typical dried-out fast food nonsense -- there's also way too much of it -- and it could use a thicker layer of cheese, but overall this is a fresh, solid fast food taco.
3. El Pollo Loco: Chicken Taco Al Carbon
Price: $1.99
Build: Corn tortilla, cubed chicken, onions, cilantro, bland pico de gallo
Why we chose it: It's the only taco at El Pollo Loco.
The verdict: El Pollo Loco's version of tacos reminds me of the street tacos I can get in Los Angeles, just more expensive and less flavorful. That means corn tortilla, fire-grilled chicken, diced onions, and cilantro. That's it. When it comes to street tacos, that's all you really need if your meat is well-seasoned, your onions and cilantro are fresh, and you've got a kick ass salsa to pour over the goods. Unfortunately for El Pollo Loco, the chicken is a bit bland and the salsa it comes with -- pico de gallo -- isn't as bright and acidic as I would have hoped. If you find yourself in Los Angeles craving tacos, El Pollo Loco isn't the direction I would point you in. That being said, for a fast food taco, I commend it for tasting fresh and wholesome. A bit more salt and a squeeze of lime would definitely improve this taco tenfold.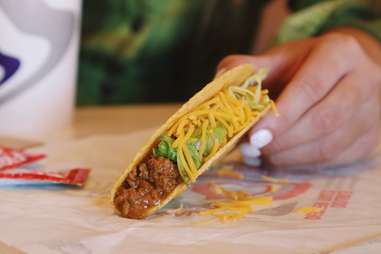 2. Taco Bell: Crunchy Taco
Price: $1.29
Build: Hard shell, shredded lettuce, long strands of cheese, seasoned meat
Why we chose it: This is Taco Bell's version of a basic, bare bones crunchy taco.
The verdict: I have always loved Taco Bell's tacos. Like most things on T-Bell's menu, the Crunchy Taco is cheap and reliable and exactly what you'd expect: a very American "taco night" taco. I enjoy the ample seasoned meat, the excessive amount of cheese, and the perfect crunch of the shell. The lettuce in my taco was cut into giant chunks and felt kind of like biting into crunchy water, but that's nothing a little Fire Sauce can't fix. Taco Bell's most basic taco is certainly great, but it falls just short of reigning supreme.
1. Del Taco: The Del Taco
Price: $1.59
Build: Hard shell, shredded lettuce, shredded cheese, diced tomatoes, seasoned beef
Why we chose it: It's all in the name -- the "Del Taco" is one of the original crunchy tacos and an embodiment of Del Taco as a brand.
The verdict: The initial notes I jotted down when I first tried The Del Taco say it all: "Wow. This is so good." Of course, I have a lot more to say about it now that I've fully processed how delicious it is.
Del Taco's value taco is like Taco Bell's Crunchy Taco, but upgraded. It's well-rounded, with its nicely seasoned beef, refreshing lettuce and tomatoes, and tangled strands of salty, bright yellow cheese. It's a revelation for what it is: a simple and earnest crunchy hard taco at an affordable price. Pair it with Del Taco's Inferno hot sauce, which has a genuine kick and zippy flavor, and you'll wonder why there's not a Del Tacos location on every corner yet. Look out, Taco Bell. This taco deserves to be everywhere.
Introducing The Fasties, Thrillist's first fast food awards. Think glitzy TV and movie award show, but to honor the best things that came out of fast food restaurants in 2019. We rolled out the ketchup carpet for fast food's biggest names and handed out golden burger trophies in 16 categories. Watch the full awards show and check out the winners here.
Sign up here for our daily Thrillist email and subscribe here for our YouTube channel to get your fix of the best in food/drink/fun.
Kat Thompson is a staff writer at Thrillist and enjoys a value taco. Follow her on Twitter @katthompsonn.