The Best Meat-Less Fast Food Burgers, Ranked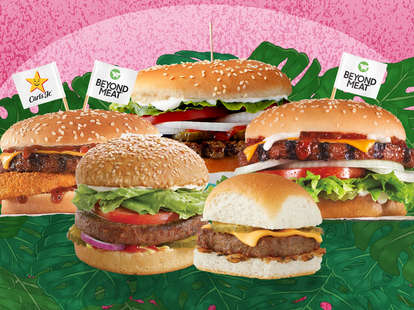 In the not-so-distant past, if you wanted to eat a veggie burger at a fast food restaurant, you were out of luck. You had to be satisfied with a dry hamburger bun, lettuce, tomato, and probably huge sense of disappointment. My how things have changed.
Plant-based "meat" patties from the likes of Beyond Meat and Impossible Foods have changed the game and are now available at your favorite fast food spots across the country. But with so many options out there and more emerging every month, we wanted to judge which of these new options tasted the best. We swung by everywhere from White Castle to A&W and Burger King to determine the best (fake) fast food burger in America.
MORE: Who makes the absolute best cheeseburgers in America? We found them.
Impossible or Beyond?: Impossible
What the burger comes with: lettuce, tomato, onion, those crinkle-cut pickles, mayo, ketchup
I think Impossible Foods, the company behind the widely adopted Impossible Burger, makes the best-tasting plant-based burger on the market, so BK's Impossible Whopper version was a bit of a disappointment. After seeing multiple commercials about the Impossible Whopper, I was excited to try it. But it's proof you can start with the best ingredients and still end up with a subpar burger.
I've had delicious, juicy Impossible Burgers at places like Border Grill in Las Vegas and Roadhouse Boulder Depot in Colorado. At Burger King, the Impossible was dry, which made chewing it a bit of a chore. On the bright side, this burger featured the familiar Whopper flavors courtesy of the pickles, mayo, ketchup, and sesame seed bun. It's desperate for another layer of flavor from a slice of cheese, though it doesn't come standard (and obviously that option isn't available to vegans). Regardless, I'd recommend trying to add flavor and moisture to this burger with as much additional ketchup and mayo as you can handle. Or, hell, dump on some Zesty Sauce.
Impossible or Beyond?: Beyond
What the burger comes with: lettuce, tomato, onion, some much-needed Papa Sauce
When's the last time you stepped into a real A&W? Not one of those fast food Frankenstein-type half A&W/half KFC spots, but a real, honest to goodness A&W? The one I went to was a throwback, with plush diner booths and employees serving huge mugs of the tasty root beer that made the brand famous alongside its signature Papa Burgers. Those burgers are topped with Papa Sauce, which my cashier helpfully described to me as "our version of Thousand Island dressing."
A&W's Beyond Burger comes standard with lettuce, tomato, onion, and the aforementioned Papa Sauce, which is the best thing the burger has going for it. It was good enough to make me temporarily forget about the hefty $7.10 price tag for the à la carte burger and its dry patty. Ask for an extra side of the pickle relish and tomato paste-infused spread, and take huge bites. The more of the crisp onion and Papa Sauce you get in each bite, the more flavor it imparts to the underwhelming Beyond Burger meat found here. Fingers crossed they'll start serving the incredible Beyond Sausage one day.
MORE: Here's the best side to order at A&W every time you go.
Impossible or Beyond?: Beyond
What the burger comes with: plentiful lettuce, tomato, onion, ketchup, mayo, American cheese
I took a bite of this and immediately thought, "This is as good as a Beyond Burger is going to taste in fast food." I was wrong, and you'll have to read No. 2 on this list to find out why. That said, this is a solid fake "meat" burger. Carl's Jr. has unapologetically courted stoner fast food customers, and this entry in the plant-based burger market will ensure you won't leave hungry from the munchies.
That's because the Beyond Burger patty here is sizable and feels significantly heftier than the A&W version. It comes topped with lettuce, tomato, onion, ketchup, mayo, and a slice of cheese, all of which goes a long way in making this feel like a real burger. Most importantly, the patty isn't dried out! It'd be the best meatless Beyond Burger in fast food if another Carl's Jr. entry weren't even better.
Impossible or Beyond?: Beyond
What the burger comes with: aromatic BBQ sauce, big fat onion rings, American cheese
As delicious as the Beyond Famous Star is, this newer entry on the Carl's Jr. menu is significantly tastier, and all for the same price. After I ordered this, the cashier explained to a co-worker that this new item is "like a Western, but with no bacon." The Western Bacon Cheeseburger includes American cheese, two onion rings, and tangy BBQ sauce, and this sandwich does indeed have all the same ingredients, swapping out a beef burger for a Beyond patty and nixing the bacon. You realize it's truly a Western burger when you first unwrap it, mostly because a wave of strong BBQ sauce wafts up and smacks you right in the nose. In a pleasant way.
Like the Famous Star, this patty was grilled perfectly, and the BBQ sauce and onion ring combo is exactly what this Beyond Meat needs: a blanket of intense flavors to cover up any minor fake meat aftertastes from the patty. The intense tomato flavors from the BBQ sauce, the American cheese, and the fried onion ring overwhelm the Beyond patty so much, you could even convince yourself that you're eating actual meat. Even though there's no beef in it, it's clear that the burger is not meant to be healthy -- this is a fast food indulgence for vegetarians and carnivores looking to take a break from meat. And it's one worth picking up.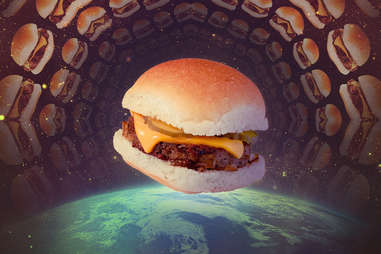 Impossible or Beyond?: Impossible
What the burger comes with: delicious smoked cheddar cheese, grilled onion, pickles
I'll admit I was worried about the quality of this burger. See, one of the closest White Castle locations to my home state of Colorado is in Las Vegas. Which is great! But it's inside a, umm, Best Western hotel. Sorry, a Best Western Plus Casino Royale. My apologies. So as I walked through rows of slot machines inside the decidedly old-school confines of the resort casino to get to the burger palace, I expected to find a White Castle unchanged from the '20s. What I saw instead was a gleaming, modern open kitchen, a spotless interior, and the best meatless burger in fast food. (Speaking of which, just had a great idea for a sign White Castle could hang up: "The White Castle Impossible Slider: Your Tastebuds Will Hit the Jackpot!" OK, OK, I'll show myself out.)
It was clear from eating the Burger King Impossible Whopper that how the burger was prepared was equally as important as what was on it. This Impossible Slider came from the kitchen straight off the grill with as juicy a patty as you'd expect from a beef burger. If you've ever had a White Castle slider, you know the bun is pillowy perfection, and the burger is nestled in there with smoked cheddar, grilled onions, and pickles. It doesn't need ketchup, mustard, or mayo. Everything you need is right there. The smokiness from the cheddar and the sizzling onions are a glorious pairing with the Impossible patty. The one downside is that it's just a tiny slider, so you're going to need to order a couple. But that's a small price to pay for the best-tasting meatless burger money can buy.
MORE: Is the Impossible Burger 2.0 meatier and juicier than the original? We found out.
Introducing The Fasties, Thrillist's first fast food awards. Think glitzy TV and movie award show, but to honor the best things that came out of fast food restaurants in 2019. We rolled out the ketchup carpet for fast food's biggest names and handed out golden burger trophies in 16 categories. Watch the full awards show and check out the winners here.
Sign up here for our daily Thrillist email and subscribe here for our YouTube channel to get your fix of the best in food/drink/fun.