These Restaurant Chains Are Now Selling Groceries & Pantry Essentials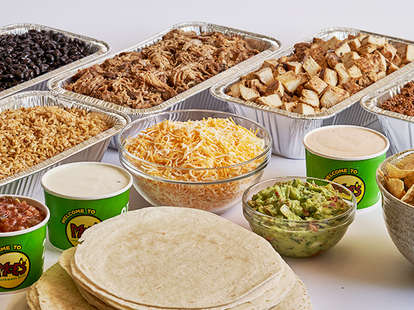 Courtesy of Moe's Southwest Grill
The restaurant and bar industry has taken a major hit in the midst of the COVID-19 outbreak. And while many food establishments are offering takeout and delivery options while dining rooms remain closed, national chains like Panera, California Pizza Kitchen, and Juice Press have pivoted to an entirely new sales concept, opening market-style online shops that allow customers to purchase groceries and other pantry essentials.
Maybe you've hit a personal limit on Postmates orders and are ready to finally use that kitchen of yours for something other than a cocktail mixing station. Some chains are offering meal kits for easy dinner prep, while others have opted to open a wider selection of groceries like produce, bread, and meat.
Here are the best restaurant grocery services to try:
Moe's Southwest Grill
By now, you've likely lost all track of time. Suddenly, you're cracking open that bottle of Casamigos and diving chip first into the bowl of guac like its Taco Tuesday everyday. And it can be! Moe's Southwest Grill has introduced a new meal kit that'll serve 4 to 6 people for around $34.99. The deal features 12 soft flour tortillas, your choice of 2 proteins, lettuce, shredded cheese, pico de gallo, rice, beans, sour cream, a bowl of queso, chips, and salsa. It's only available at some locations and you have to order through the Moe's site or mobile app.
California Pizza Kitchen
The new CPK Market is stocked with both meal kits and pantry essentials, so you can get near everything you'd need to play Top Chef. The company's initial meal kit launch included a charcuterie board, fruit & veggie box, lettuce wrap kit, and a kid's build-your-own pepperoni pizza. CPK has since introduced a new lineup of spring kits. The latter is available in two sizes (dinner for two or dinner for four) and features several entrée options, caesar salad, potatoes, and a gooey butter cake for dessert.
As for groceries, your choices are expansive with dairy and pantry essentials, produce, meat and seafood, dry pasta, sauce, chips, bread, juice, and desserts. Some locations are even offering beer and wine, so things can get a little boozy in your wannabe Bon Appetit test kitchen. Check out the full list and order here.
LongHorn Steakhouse
In addition to to the western-style steakhouse's family bundles, the chain is offering its signature steak cuts uncooked, like the Flo's filet, outlaw ribeye, renegade sirloin, and New York strip, starting at $6. Each hunk of raw meat comes with LongHorn's seasoning, cooking instructions, and Honey Wheat Bread, all of which is available for same-day curbside pickup.
Panera
Panera is offering rapid pick-up, drive-up, drive-thru, and contactless delivery. And now, the café chain is introducing a brand-new grocery service. Order whatever your kitchen needs -- baguettes, bagels, yogurt tubes, and produce, -- for delivery or pickup through the Panera site or Grubhub.
Juice Press
Juice Press has a lot more to offer than overpriced celery juice. The chain is offering organic supermarket delivery with a huge stock of produce and grocery essentials, including a selection of Passover needs like cooking and baking essentials, a seder plate with horseradish root, parsley, ingredients to make charoset, and a beet to represent the shank bone.
Dog Haus
The frankfurter chain is mixing things up by offering grocery delivery and pickup from locations across California, New York, Illinois, Arizona, Texas, Colorado, and Minnesota. The biergarten has an entire roster of goods including hot dogs, sausage, burgers, and chili, as well as dairy, breads, produce, desserts, and frozen food. Oh, and if you're still stressed about that toilet paper supply, they've got you on that front too.
Sign up here for our daily Thrillist email and subscribe here for our YouTube channel to get your fix of the best in food/drink/fun.
Megan Schaltegger is a staff writer at Thrillist.