Here are 7 Group Video Calling Options to Try Besides FaceTime
You'll have to look beyond FaceTime to find fun filters and effects that'll help get you through all your quarantine video calls.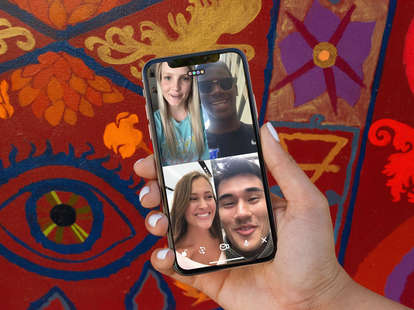 Courtesy of Houseparty
Courtesy of Houseparty
In this new age of social distancing and self-quarantine, our social lives have shifted dramatically. It's not that we've stopped hanging out altogether, it's just that we've started gathering virtually rather than IRL. Our dinner parties, game nights, happy hours, and workout classes have gone digital. And now, more than ever, we're reliant on technology to connect us with those nearest and dearest.
There are plenty of other video calling apps out there to help you bridge the distancing gap beyond basic video calling features like FaceTime. Each option has its own unique features. Houseparty is the hottest new happy hour bar, Google Hangouts is the office board room, and Zoom is your married friend's classy Upper East Side apartment.
Zoom
In a matter of weeks, Zoom has morphed into a beacon for maintaining any semblance of normalcy in our social lives. It's where we go to eat, drink, and whine with your friends from the comfort of your couch. But it's also how we're staying connected with co-workers, and for students, where a lot of teachers are holding classes.
The video conferencing app allows up to 100 participants with a standard, default meeting -- and up to 500 with the Large Meeting add-on. You can hold a company-wide get together or a full-on digital wedding. The platform has a ton of necessary features, too. Mute your friends when they start talking about TV show spoilers, share your screen to show them the Tik Tok dances you won't master, or use the "touch up my appearance" tool to soften the focus on your camera and camouflage that day six hair you're rocking. However, there are some privacy concerns you should make yourself aware of before using the app.
When asked about how its service is being used to ease the frustrations of social distancing, a Zoom spokesman provided the following statement to Thrillist:
"We are committed to doing our part to help during this challenging time. When employees are not able to get to the office, when teams cannot travel to see customers, and when students cannot participate in on-site classes, Zoom provides a platform where they can still be productive with just a free Zoom Meetings license."
Get it on the App Store
Get it on Google Play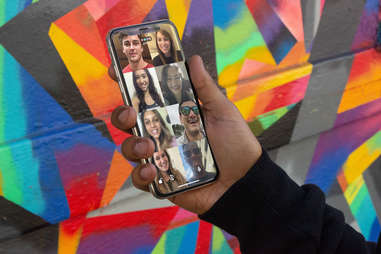 Houseparty
Houseparty is one of my personal favorites, because it makes virtual game night really easy. The video calling app permits up to eight "guests" at a time, and among other features, allows you to play Heads Up!, trivia, pictionary, and more while online with your friends. A spokesperson provided Thrillist with a few "power moves" to use while social distancing as well:
"You can 'Sneak into the House,' which is opening the app without sending a notification, by holding down/long-pressing on your app or on a notification," the spokesperson said via email. "[Additionally,] you can turn off any friend's notifications by navigating to Manage Notifications in Settings or tapping the cog on their profile. You can also stop sending notifications to any friend ("Ghosting") from the same pages."
Get it on the App Store
Get it on Google Play
Skype
If you didn't use Skype back in the day to video call your friends from four houses down, were you even a middle schooler? The platform, which very much still exists beyond the braces period of your life, allows you to call, message, and video your friends and contacts. You can include up to 50 people per group video session. Throw that virtual dinner party you've been planning, drink away your social distancing sorrows with a few (or many) of your friends, or get the family together to connect amid coronavirus concerns. The app also allows you to record conversations, call cell phones, send voicemails, messages, and share photos.
Get it on the App Store
Get it on Google Play
Facebook Messenger
Facebook Messenger actually has its own video call feature, which as a result of new social distancing practices, has seen a 70% spike users, according to the company. Call up to 50 of your contacts at once, use filters, send messages, and more.
According to a Facebook spokesperson, calling on Messenger has doubled in places most impacted by coronavirus. "In the United States, just in the past week alone, we've seen 70% more group video calls compared to last week. Move your book club to Messenger or round up a virtual happy hour with colleagues to officially wrap the never ending WFH day."
On April 24, Facebook introduced a brand-new video calling feature: Messenger Rooms, a Houseparty-esque chat room experience with gallery views à la Zoom.
"If your friends or communities create rooms that are open to you, you'll see them on Facebook so you can find things to do and people to hang out with," the company said in a statement Friday. "When you're invited to a room, you can join from your phone or computer -- no need to download anything to get started. If you have the Messenger app, you can play with AR effects like bunny ears, and new AI-powered features like immersive 360 backgrounds and mood lighting."
Get it on the App Store
Get it on Google Play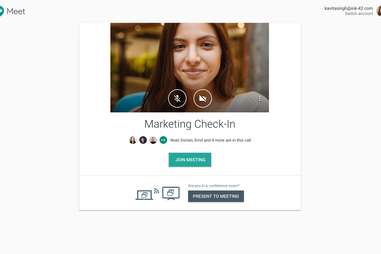 Google Meet
Good Meet (formerly known as Google Hangouts), which is normally free and allows up to 25 people per call, is taking things up a notch in light of the COVID-19 pandemic. From now through July 1, 2020, all customers will have access to Google's free premium and advanced capabilities. Wanna host a virtual party with up to 250 guests? You can. Livestream your sourdough baking skills to 100K viewers? Why not. The app also allows you to post statuses, photos, videos, maps, emoji, stickers, and animated GIFS.
Get it on the App Store
Get it on Google Play
Snapchat
Yep, Snapchat lets you place audio and video calls too. The feature allows users to dial up to 15 friends at once and use a bunch of different Face Lenses while chatting (again, useful if you wanna hide that unwashed WFH hair). You can access all the same filters you normally would through the app -- give yourself heart-shaped freckles, a misshapen head, glasses, cat ears, and more.
But be warned: the company cautions that your friends might be able to view your video before they've actually answered your call.
Get it on the App Store
Get it on Google Play
Instagram
You're probably spending way too much time aimlessly scrolling Instagram lately, so why not start a group video call while you're there. IG introduced the feature back in 2018 and it allows a max of four friends per call. Like Snapchat, you can access all the same filters you would for stories right on your video call. Give yourself a halo or make it appear like you're chilling from outer space.
To start the chat, just navigate over to your messages, select a contact or contacts, and hit the camera icon. Please, please do this instead of going live and annoying us all.
Get it on the App Store
Get it on Google Play
Sign up here for our daily Thrillist email and subscribe here for our YouTube channel to get your fix of the best in food/drink/fun.
Megan Schaltegger is a staff writer at Thrillist.