These Mobile Apps Make it Easy to Host Karaoke Night at Home
Turn your 500-square foot apartment into your fave hole-in-the-wall.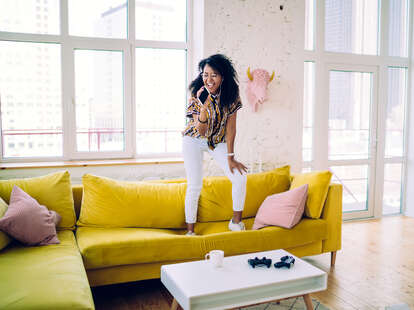 Welcome to Karaoke Week, Thrillist's celebration of our favorite global phenomenon, with advice from experts and celebrities about what to sing, where to go, what to drink, how to pull off karaoke at home, and much more.
Once upon a time seven months ago, we gathered in sweaty, overcrowded bars, got up on stage, and belted "Sweet Caroline" under the influence of one too many tequila shots. Social distancing wasn't a thing; in fact, personal space wasn't really either. But the pandemic has made our ritual karaoke nights a bit more complicated -- and not just because a face mask can muffle your killer vocals.
There are legitimate health risks. Think about that shared mic, the obvious bar capacity issues, and those respiratory droplets you send flying with each verse. Though your spirited rendition of "Livin' on a Prayer" isn't entirely risk free from the comforts of your home either, bringing the karaoke bar to you certainly makes things safer. That's why we've rounded up the best karaoke apps you can install on your phone, so you can keep on performing -- whether your friends/family/neighbors care to hear or it not.
Houseparty
Houseparty has launched an in-app karaoke feature so you can bust out your best "Wonderwall" performance while video calling with pals. Similarly to the platform's other games, the karaoke mic icon will be available in the top right hand corner of the screen and will allow you to access over 10,000 songs while in a chat. You can download the app on your iPhone or Android device.
Smule
If you're still apprehensive about getting the gang together IRL, you can always karaoke together... separately. The Smule app, which is available for download on Android and Apple devices, features 10 million hit songs, spanning genres and languages. And you can still perform together -- duets, a group rendition, or solo if you're feeling a little Mariah Carey-esque -- without cross contaminating your living room.
The Voice -- Sing Karaoke
So maybe your vocals aren't quite ready for an actual singing competition, but why not think of your karaoke session as an audition? Hit NBC series The Voice has created its own Android and Apple app so you can warm up those vocals with a solo or duet -- invite your actual friends or total strangers. Plus, you can add vocal and visual effects for a full performance.
Karaoke by Yokee Music
Yokee's karaoke app, which you can get on either Android or Apple, features an entire catalog of hit tracks to master. You can sing, record, and share the performances (the latter of which I will not be doing for your benefit) all through the app. You can even connect with friends directly through the device if you're planning a virtual karaoke night.
iSing
Think: Instagram for the karaoke nerd. iSing is a powerful digital destination for your performances -- whether your chugging Fireball and rapping "Lose Yourself' on the couch with friends or just working on those vocals for your post-pandemic karaoke bar debut. The platform features thousands of free tracks, new releases every Friday, and individualized profiles where you can share your own library of performances. You can download the app on your Apple or Android devices.
Singing Machine Karaoke
If you're looking to turn your 500sqft New York City apartment into a full-blown karaoke lounge (for a few coronavirus-free pals, of course) then Singing Machine Karaoke is your ticket. The app is available for download on your Apple and Android devices, but can also be used with Google Chromecast. You can belt out your best duet (use those sound effects to autotune your one tone deaf friend), try some visual effects, and create custom videos.
Sign up here for our daily Thrillist email and subscribe here for our YouTube channel to get your fix of the best in food/drink/fun.
Megan Schaltegger is a staff writer at Thrillist.