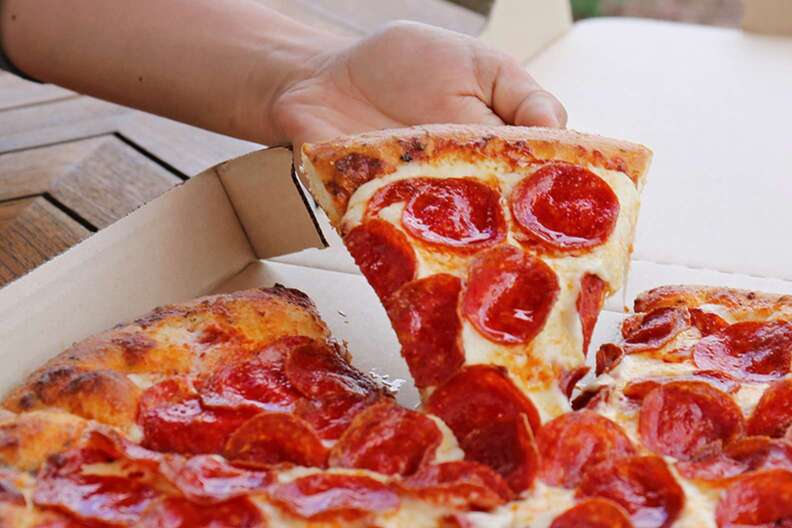 Photo courtesy of Pizza Hut
Whether you're willing to admit it or not, ordering a pizza is not a matter of if, but when. If you're not about to place an order for you favorite pie today, then chances are you will treat yourself to a sacred circle of cheese, sauce, and dough sometime soon. The only if you'll have to worry about is if you'll be able to save money with discounts and deals from your favorite pizza purveyors. Thankfully, it's easier to save a few bucks on pizza than you'd think.
America's most popular pizza chains -- Domino's, Pizza Hut, Papa John's, Little Caesars, and more -- are constantly unleashing coupons, combo deals, and other promotions, so it would behoove you to check around for deals before you pull the trigger on, say, a large pepperoni pie and breadsticks when there's a chance you could get the breadsticks for free. And you don't want to be the person who pays full price for a pizza while everyone else is paying less for the same exact order. With that in mind, we've rounded up all of the best pizza deals from the biggest chains that are available nationwide right now.
We'll be updating this story all the time with the latest pizza steals, including ongoing promotions and special one-day giveaways. So, bookmark this page and check back whenever you're getting ready to hit "place order" on your next pizza.
Pizza Hut
The deal: To celebrate its Stuffed Crust Pizza (and counter a rival launching its own version), you can grab a large, three-topping Stuffed Crust pizza for $11.99.
When: A limited time
Pizza Hut
The deal: Grab a large Tastemaker pizza with up to three toppings for $10.
When: Ongoing
7-Eleven
The deal: The convenience store is offering two different "Gameday Bundles" through the 7NOW app. Get a large pizza and 16 boneless wings or a large pizza and four Big Gulp drinks for $10.
When: Through December 31
Grimaldi's Pizzeria
The deal: Grab a 16-inch traditional cheese pizza for $12 every Monday this month.
When: Every Monday in October
Bertucci's
The deal: You can grab a free Brick Oven Pizza with the purchase of another one. BOGO city.
When: Every Tuesday
Marco's Pizza
The deal: The code "MED699" will get you a medium one-topping pizza for $6.99.
When: "For a limited time"
Hungry Howie's
The deal: Use the code "PICK2" to get your pick of any two items from a limited menu with each item costing just $5.99. The options include pizza, sticks, soda, and cookies.
When: Ongoing
Round Table
The deal: The large Double Play Pepperoni Pizza is $19.99 for a whole lot of pizza and little red circles.
When: Ongoing
Whole Foods
The deal: Take 50% off all frozen pizzas if you're a Prime member.
When: Through November 2
Pasqually's Pizza & Wings
The deal: Take $5 off any online order of at least $30 with the code "PizzaMonth."
When: Through October 31
Pasqually's Pizza & Wings
The deal: Every Saturday and Sunday during National Pizza Month, you can take $3 off a Specialty Pizza with the code "PizzaMonth2."
When: Through October 31
Cappello's
The deal: Take 10% off pizzas ordered at their site with the code "pizzaparty10."
When: Through October 31
Alex's Awesome Sourdough
The deal: Get $3 off the pizza dough at Kroger.
When: Through October 31
Ledo Pizza
The deal: Get an eight-inch Sausage Pizza for $6.
When: October 11
Papa John's
The deal: The Jack-O-Lantern pizza is back this year. The large pizza shaped like a jack-o-lantern will only run you $11.
When: October 18-31
Alex's Awesome Sourdough
The deal: Alex's products are buy-one-get-one-free at Sprouts stores.
When: October 27 - November 3
Banza
The deal: Banza's Margherita, Roasted Veggie and Plain Crust pizzas are half-off at Whole Foods if you're an Amazon Prime member.
When: October 20 - November 2
Non-Pizza Deals at Pizzerias
Grimaldi's
The deal: Sign up for the shop's new loyalty program through its mobile app, and you'll get a free appetizer or salad when you sign up.
When: Ongoing
Domino's
The deal: A 10-piece order of the chain's new Buffalo wings costs just $7.99. They've had wings for a while, but these ones are called "new-and-improved." The latter half of that label is up to you, really.
When: Ongoing
UNO Pizzeria & Grill
The deal: You'll land a free appetizer when you sign up for the pizza shop's Insider's Club.
When: Ongoing
More Pizza Deals?
Know of a great national pizza chain deal that we missed? Send the info (a link would be helpful, too) to news@thrillist.com with "Pizza Chain Deals" in the subject line and we'll look into adding it. Same goes for deals that seem to no longer work.