Illustration by Maggie Rossetti for Thrillist
Illustration by Maggie Rossetti for Thrillist
In the beginning, there was a fast food burger. Meat, onion, pickle, bun. Simple. Plain. A little boring. But that, as they say, escalated quickly. Now you can order a seemingly infinite combination of toppings at fast food joints, from eggs to avocado to bacon to chopped chilies. And as a result, the fast food burger has never been more delicious.
In 2019, there were two plant-based fast food burgers: Beyond Meat and Impossible. Plain. A little boring. And even today, it's mainly those two brands. But wait. Things are escalating quickly! McDonald's announced it's debuting an aptly dubbed McPlant fake meat this year. Taco Bell is developing its own special Beyond Meat. And did you know Quizno's is already serving plant-based corned beef?
If you know where to look, you can find plenty of delicious plant-based meat—in burger, taco, and sandwich form—at major fast food chains across the country. We've tasted them all, and are here to tell you the best plant-based menu items you can get your hands on today.
Impossible or Beyond?: Impossible
What the burger comes with: lettuce, tomato, onion, those crinkle-cut pickles, mayo, and ketchup
BK rightfully received its fair share of positive press when it became the first national fast food chain to embrace plant-based meat on its national menu. But a class-action lawsuit in 2019 alleged that the Impossible Whopper was prepared on the same grill as its beef Whoppers, where it could come into contact with the real meat. The chain responded that customers can ask for the Impossible to be cooked on a separate broiler. Which is good! But the main reason the Impossible Whopper is last in this ranking has nothing to do with whether it might come into contact with meat. It's because the burger is a bummer.
There are delicious, juicy Impossible Burgers out there. BK's version is dry, and no one likes a chewy burger. It's a shame, because those signature Whopper flavors are tasty: pickles, mayo, ketchup, and a sesame seed bun. But the Impossible Whopper needs moisture like a man wandering the desert. This burger is begging for a slice of cheese, though it doesn't come standard. Why doesn't BK imitate rivals like Carl's Jr. and upgrade the burger with spicy ingredients, a sauce, or anything? When BK decides to make the Angry Whopper with Impossible meat, we'll be first in line to try one. Until then, it's worth checking out the other plant-based meats in this ranking.
Impossible or Beyond?: Beyond
What the burger comes with: plentiful lettuce, tomato, onion, ketchup, mayo, and American cheese
As Burger King does with the Impossible Whopper, Carl's Jr. does with the Beyond burger. It took its flagship burger (the Famous Star) and subbed in a meatless patty for the animal protein. This is a perfectly serviceable veggie burger that won't leave you hungry.
But if you're getting Carl's Jr. delivered or you're sitting in a drive-thru, you're probably not doing it because you want something plain and simple. After all, this is the same chain that hired Paris Hilton to, umm, wash a luxury car while eating one of its burgers (2005 was a strange time)? It once sold a burger with CBD for $4.20. You're there because you want something a little more. And that's why you should order a different Beyond burger from the chain—one you'll find higher in this ranking.
Impossible or Beyond?: Beyond
What the tacos / burritos come with: depends on which one you order, but the Epic Loaded Queso Burrito has fries, queso blanco, cheddar, and pico de gallo
Taco Bell made headlines for announcing that it's partnering with Beyond Meat to make a custom meat that it could feature in burritos, tacos, and nachos. If you're reading that news while you're hungry, it's not going to help you right now. What will help you is knowing that Del Taco has Beyond Meat on their menu at this moment.
Because Beyond ground beef is more versatile than say, a Beyond patty, there's the option to order it in a number of different items. For something simple, the crunchy Beyond Taco is your best bet: a corn tortilla crammed with well-seasoned Beyond and covered in lettuce, tomatoes, and a healthy dose of cheddar. Vegetarians know the perfection of Taco Bell's 7 Layer Burrito, and Del Taco's 8 Layer Burrito with Beyond is a subpar ripoff. If you just need a burrito, snag the Epic Loaded Queso with Beyond, as anything drenched in that much queso is worth ordering.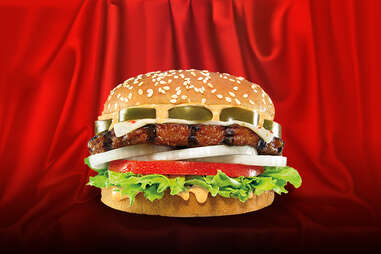 Impossible or Beyond?: Beyond
What the burger comes with: A boatload of Fiery sauce, Pepper Jack, jalapeños, onions, tomato, and lettuce
Carl's Jr. is that friend you love to death, but you get a migraine if you're around them too much. They're a lot. Carl's Jr. is also a lot, but with regards to food. And that's not a bad thing if you eat it every once in a while. Sometimes you just want a burger that slaps you across the face with flavor, that after a couple bites you think to yourself, "Oh man, how am I going to finish this thing?" and then you do because it's so ridiculously tasty.
Sometimes when you're ordering from a drive-thru the person can't hear you well, and you get the wrong order. That's how we ended up with a double Beyond Fiery Famous Star, and we were not upset. It's a burger positively doused in a spicy sauce that leaves a lingering, pleasant burn. Under both patties was a thick layer of jalapeños that provided even more heat. If you want a healthy veggie burger, this is not the place. If you require legit heat to satisfy your gluttonous urges, you couldn't have picked a better spot.
Impossible or Beyond?: Impossible
What the burger comes with: delicious smoked cheddar cheese, grilled onion, and pickles
White Castle might be an old-school chain (it's turning 100 years-old this year), but integrating an Impossible patty into its legendary slider shows that the brand is looking towards the future when it comes to fast food orders. And the innovation didn't stop in 2018 when it launched this burger. In fact, it's possible to order a vegan, dairy-free cheddar at Castles in NJ and NY, an item we hope will be rolled out nationwide.
Honestly, we'd be happy just eating the White Castle slider bun without anything else. It's that good. But when you couple it with onions, cheddar, and an Impossible burger straight off the grill, it's true fast food magic. If you don't order five or six every time you're in the vicinity of a White Castle, you're making a grave mistake.
Impossible or Beyond?: Neither; Mrs. Goldfarb's Unreal Deli
What the sandwich comes with: Swiss cheese, pickles, sauerkraut, and honey French dressing
Impossible and Beyond have set the bar for burgers extraordinarily high. If the first veggie burger you ever ate was one of those brands, you'd probably think all fake meat tastes just as close to the real thing. Spoiler alert: it does not. And in rare cases, it doesn't matter, because the meat is still delicious. Case in point: Quizno's Plant Based Corned Beef. Quizno's partnered with the vegan meat experts at Mrs. Goldfarb's Unreal Deli (who scored an investment from Mark Cuban on Shark Tank in late 2020) and built a sandwich around the company's corned beef.
Ordering it in a standard white roll is a let down, as the dryness from the toasted sub does the corned beef no favors, turning your mouth into summertime Death Valley if you take a bite and don't happen to get any kraut or dressing. Instead, order it on a flatbread sammie, a super soft landing pad for all the sandwich's ingredients. When the black peppery corned beef combines with the sweet, tangy dressing and the tart kraut, it combines for a surprisingly filling and delicious vegetarian option. Unfortunately, this sammie is only available in 16 locations in two cities (Denver and Seattle) at the moment. But based on the positive customer feedback the company shared with us, it's likely only a matter of time before you can order one everywhere.