These Are the Best Places to Work in America Right Now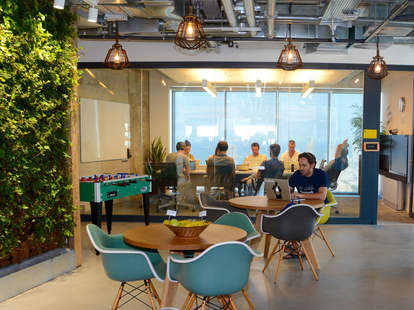 You never really know what a company is truly like until you work there, which can make hunting for a new job all the more intimidating and overwhelming. There are countless factors to consider, like what's the employee burnout rate? Do the perks and benefits adequately offset the grueling work schedule? How is the office vibe? And of course, what's the free snack situation?
Fortunately, you can at least steer yourself in a promising direction, thanks to a brand new study from Indeed. The careers site released on a report on Thursday, revealing the 50 top-rated workplaces in America this year. 
The new ranking from the job-search experts at Indeed pulls back the curtain on which companies have the best reputations among their own employees by considering a whole slew of data and literally millions of first-hand reviews. Specifically, the the research team looked at companies that had at least 100 verified employee reviews submitted over the last two years, then identified which among them are the most highly rated on "overall employee experience." It's also important to note that they looked exclusively at larger, well-known companies, compiling the list from a pool of companies that are both in the Fortune 500 Index and have more than 5,000 employees.
For 2018, Facebook earned the title of best-rated workplace, which is a bit confounding considering the exceedingly bumpy year its had, but hey, apparently people really love working there. Coming in at number two is Southwest Airlines, and number three went to Salesforce. If you're curious what else made the cut, here's how the top 50 shake out.
50. John Deere
49. Synchrony Financial
48. National Oilwell Varco
47. General Motors
46. MGM Resorts International
45. Qualcomm
44. Hilton
43. Freeport McMoRan
42. USAA
41. American Express
40. NetApp
39. Stryker
38. Booz Allen Hamilton
37. Avon
36. Northrup Grumman
35. AbbVie
34. Nationwide Mutual Insurance Company
33. Fluor Corp.
32. Lockheed Martin
31. American Airlines
30. Discover Financial Services
29. DTE Energy
28. Amgen
27. Charles Schwab
26. CBS
25. Capital One
24. ConocoPhillips
23. Cisco
22. Edward Jones
21. Starbucks
20. Pfizer, Inc.
19. Publix
18. Nike
17. Viacom
16. Estee Lauder
15. eBay Inc.
14. Exelon
13. Live Nation
12. Eli Lilly
11. Microsoft
10. Apple
9. Bristol-Myers Squibb
8. JetBlue Airways
7. Johnson & Johnson
6. Fannie Mae
5. Costco Wholesale
4. Delta
3. Salesforce
2. Southwest Airlines
1. Facebook
While the companies that made the top 10 may not strike you as too surprising, there are a few newcomers to the top 50. For example, Live Nation, eBay, and CBS are all on the list for the first time since Indeed starting making it, as are Fluor Corporation (an engineering and construction firm), and biopharmaceutical company AbbVie.
As for who made a big jump ahead this year, Cisco went from 45 to 23, Microsoft went from 22 to 11, and Eli Lilly leapt from 41 to 12. However, there are two companies that made the top 10 in 2017 that are notably absent from this year's ranking entirely: Google and The Walt Disney Company.
Obviously, it's impossible to identify one specific quality that's responsible for a company making it onto the ranking, but Indeed's SVP of Human Resources, Paul Wolfe, insists it's all about ensuring your employees feel heard. "Organizations that stood out among top-rated companies have worked hard to listen to the specific needs of their employees to provide an outstanding experience through strategic and thoughtful workplace programs," he said, per a press release.
But let's be real, we all know the true secret to keeping employees happy: lots of free snacks.
Sign up here for our daily Thrillist email and subscribe here for our YouTube channel to get your fix of the best in food/drink/fun.