This Map Reveals the Best (& Worst) States to Drive in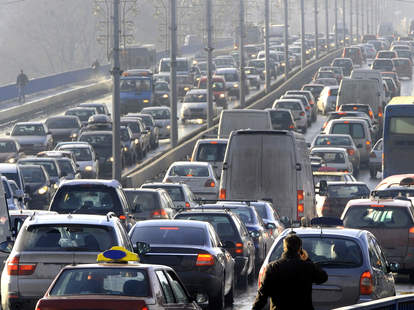 Driving is a mixed blessing. On the one hand, it's super-convenient not to have to take a horse to work, and scenic drives are exceedingly pleasant. On the other, it's actually incredibly terrifyingand dangerous, and you have to buy gas and insurance. But if you have to do it, some places are better than others. 
Thus, we present this new study from the folks over at WalletHub, which looks at all 50 states using 30 indicators of whether driving there absolutely sucks or not, and combines that into a ranking that spans the country and comes complete with a map. We've also highlighted the top and bottom 10 below, but definitely check out the full report if you don't see your state represented. We're not saying you should move right now if you live in the bottom five. But we're also not not saying that.
To use the map, hover to see the ranking. The darker the state, the better driving there is.
Here are the top 10 states for driving
10. Ohio
9. Nebraska
8. Arkansas
7. Georgia
6. North Carolina
5. Texas
4. Iowa
3. Indiana
2. Illinois
1. Oregon
Here are the bottom 10 states for driving
10. Maryland
9. New Jersey
8. Wyoming
7. Massachusetts
6. Rhode Island
5. New Hampshire
4. California
3. Washington
2. Alaska
1. Hawaii
To put the study together, WalletHub looked at every state in the US with four dimensions in mind: 1) Cost of Ownership & Maintenance, 2) Traffic & Infrastructure, 3) Safety and 4) Access to Vehicles & Maintenance. Those were broken down into 30 metrics -- like average gas prices, rush-hour traffic congestion, and traffic fatality rate -- and graded on a 100-point scale That was combined in an overall score used to rank the states.
At the top of the good list was Oregon, a state of many charms, among them having the lowest auto-maintenance costs in the country and many a scenic drive. Oregon was just ahead of Illinois, which had the fourth most auto-repair shops and car washes. That may not be sexy, but it will come in handy when you get sick of your dirty, broken-down car. 
On the other end of the ranking was Hawaii, which came in dead last overall for Cost of Ownership & Maintenance. It also had the second most days with precipitation, second fewest auto-repair shops per capita, the second fewest car washes per capita, and the highest average gas prices. And all of that definitely sucks.
But on the other hand, you get to live in Hawaii.
Sign up here for our daily Thrillist email and subscribe here for our YouTube channel to get your fix of the best in food/drink/fun.