These Are the Top 10 Tech Companies to Work for in 2019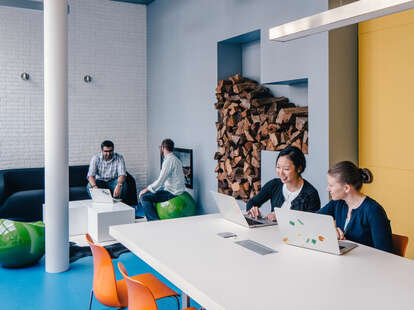 The tech industry continues to boom, inspiring more and more young people to try to get a foot in the door. It is, however, a notoriously difficult profession to break into, and figuring out which companies are going to thrive and which have the best work environment is an undertaking in and of itself. After all, what's the point of making loads of money if you're too busy -- or worse, miserable -- to spend it?
Lucky for all you aspiring techies, Indeed's data scientists combed through more than 100 million ratings, reviews, and employee testimonials about the day-to-day at different tech companies to find the very best ones to work for in 2019. Indeed narrowed it down to a list of 10 companies, and some may just surprise you.
Facebook, for example, jumped two spots from 2018 to top this year's list, in spite of all the controversy that's plagued the company recently. That's right -- Facebook may misusing your data, giving third party companies access to your private messages, and helping to spread misinformation, but it seems working there is a delight!
The company has, according to Indeed, made "an effort toward greater transparency." Employees have weekly Q&A sessions with its very human CEO Mark Zuckerberg at its Menlo Park, California headquarters, which is recorded and broadcast to employees at other offices around the globe. Facebook also provides "a flexible approach to promotion and time management," allowing employees who don't want to be in management positions to "advance in the company as individual contributors."
One Facebook employee said it's "a great company to be at, the perks and benefits are out of this world, and you'll be among [some] of the smartest people you'll ever meet."
"That said, your success can highly depend upon team culture, and unless you're an engineer, you don't get to pick your team," the anonymous worker said.
What other tech companies landed in Indeed's top 10? Check it out.
10. Apple
9. SAP
8. LinkedIn
7. YouTube
6. Salesforce
5. Yahoo!
4. Intuit
3. Airbnb
2. Adobe
1. Facebook
Adobe held strong at No. 2, the same spot it was in last year. The company is known for having a great work-life balance, along with "great benefits, open communication with upper management," and, perhaps most importantly, global gender pay parity. Intuit, which boasts a "wonderful" staff and "pleasant" management, as well as a "low-stress" work-environment, jumped four spaces from No. 8 in Indeed's 2018 rankings along with Yahoo!, which came in at No. 10 last year and No. 5 on this year's list.
Meanwhile Salesforce, which held the No. 1 spot in 2018, 2017, and 2016, fell a whopping five spots in Indeed's 2019 rankings. It's unclear, based on Indeed's research, what changed within the company, but hey -- sixth place isn't half bad. SAP, which landed at No. 9 this year, also fell a significant number of spots.
Polish up your resumes and start firing them out and maybe you'll find yourself among the employees of one of Indeed's top tech companies someday. Whether it's one at the top of the list, or one near the bottom, you'd be lucky to enjoy a career with any of these companies, though getting paid to ski or driving the Oscar Mayer Wienermobile wouldn't be bad either.
Sign up here for our daily Thrillist email and subscribe here for our YouTube channel to get your fix of the best in food/drink/fun.
Caitlyn Hitt is Daria IRL. Don't take our word for it -- find her on Twitter @nyltiaccc.