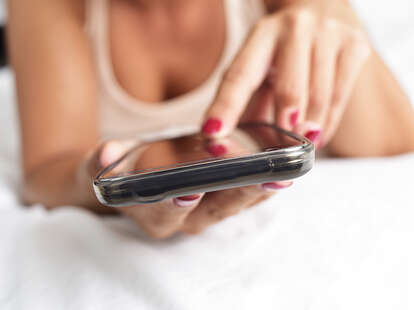 Sure, it seems like a great idea to hop on Tinder at 4am after you've been at a bar. Except no one will be there to get your eggplant emoji. Also, stop sending eggplant emoji.
But if you're looking to actually make a connection with someone on OKCupid or Tinder, you ideally want to be looking at a time when the most potential mates are online. Well, Nielsen, a global information and measurement company, studied the trends of OKCupid and Tinder users and discovered the magic hour. And that hour is.... 9pm. That's actually pretty early for a booty call.
If you log on anytime between 8pm - 10pm you're golden. Traffic trends down on both sites after that, and the wee hours of the morning actually see the least amount of users. Obviously, don't log on then, unless you like chatting with yourself. But why do you need a dating app for that?
Check out an hour-by-hour chart of both Tinder and OKCupid trends here, and try not to readjust your schedule too much to fit these trends. After all, Thursday night "The Blacklist" viewing at 9pm is important too. Priorities, people.
Sign up here for our daily Thrillist email, and get your fix of the best in food/drink/fun.
Kara King is a News Writer at Thrillist and tries to be in bed by 10. Send news tips to news@thrillist.com and follow her at @karatillie.