The Best Party Cities in the U.S. Ranked in New Study
The ultimate party hotspots, no matter what you are looking to celebrate.
If you are looking to get away, but don't think you'll be getting a passport before the end of summer (processing times are increasing more every day), don't worry. There are plenty of famously fun places to head to that don't require going international. According to a report from Expedia, roughly 60% of Americans are planning on traveling in the U.S. this year. If you are in this group, Bonus Finder has done some extensive data analyzing to determine which 10 cities are the best for partying the night away.
Based on 11 different parameters, Bonus Finder came up with the top 10 cities below after evaluating 101 cities. Factors included the number of nightclubs per 10,000 people, the average cost of hotel rooms and drink prices, number of music events, and late night eating options.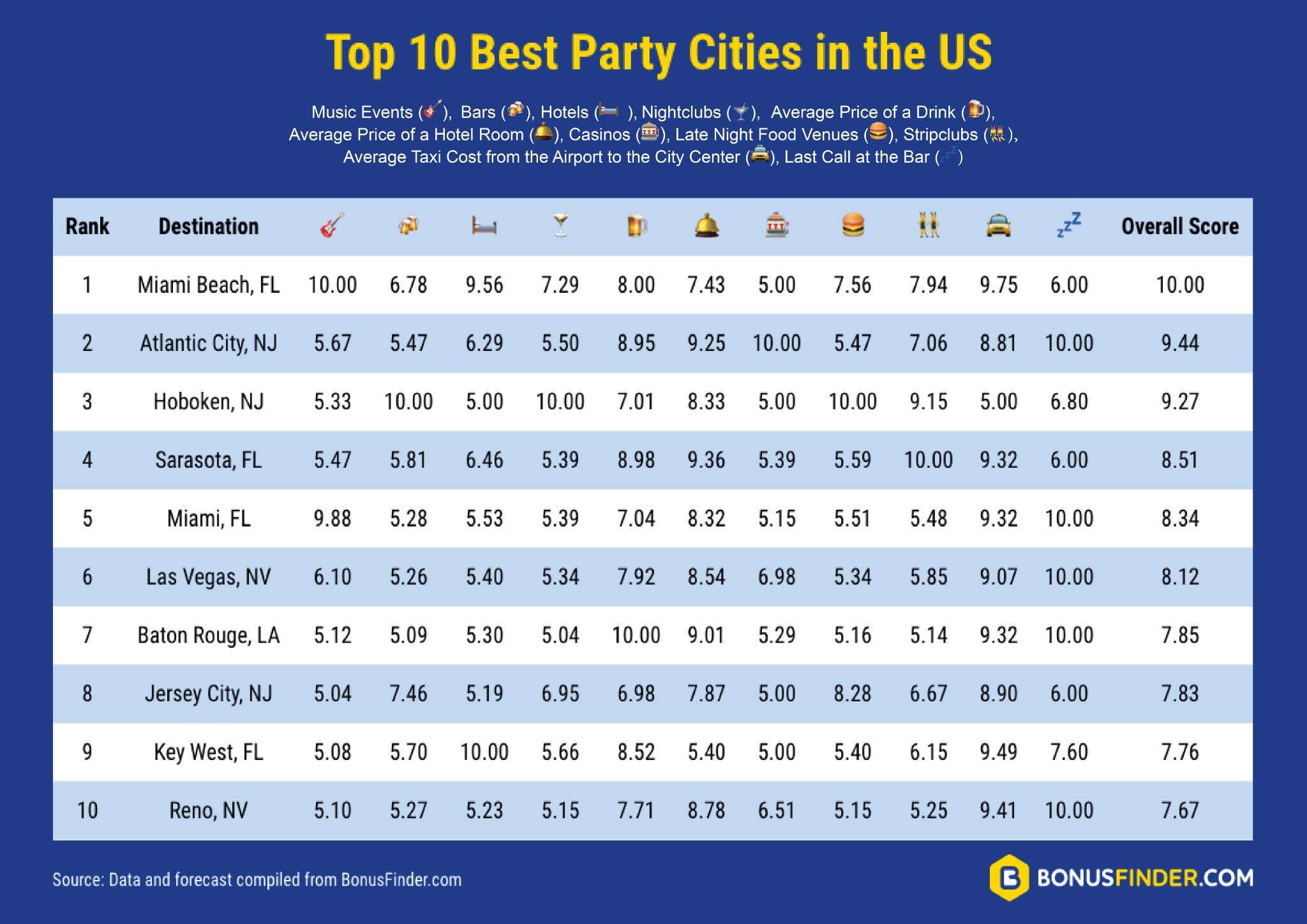 Miami Beach came first overall, with top scores for music events, hotel prices, and the price of a cab between the airport and the city center. Seven of the top 10 cities are located on the East Coast. If you are looking for the city with the most bars, that would be Hoboken, New Jersey, which has one bar for every 26 residents. For 24-hour ragers, Las Vegas, Miami, Baton Rouge, New Orleans, Atlantic City, and Mobile, Alabama all allow bars to stay open all day and all night.
Other cities that landed among the top 10 overall US party cities in the ranking included Sarasota, Florida; Jersey City, New Jersey; Key West, Florida; and Reno, Nevada.
To see the full ranking and find out where your city lands on the list, check out Bonus Finder's full report. And if you're looking to learn more about top international nightlife capitals instead, we've got you covered there too.