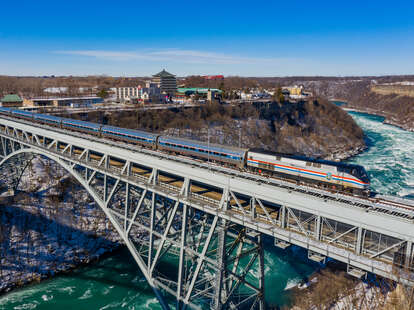 For your next train commute across the country, you might as well pick an Amtrak route, and you'll likely have a pleasant experience.
Wanderu, a bus and train travel booking platform, just announced the winners and honorees of this year's Wanderu Passengers' Choice Awards for Excellence in Ground Travel, which recognize both the bus and train carriers that, over the course of the past year, provided outstanding service to travelers. The awards are divided into categories, and are given out based on the user reviews submitted on the platform.
"My favorite thing about the awards is the fact that they are based entirely on feedback we've gathered directly from people who have actually traveled with these bus and train carriers," Polina Raygorodskaya, co-founder and CEO of Wanderu, said in a statement. "That makes these accolades a genuine representation of the highest quality ground travel service available out there as experienced by the passengers themselves."
Under the "Best of the Best" category, which praises the overall best ground travel provider both in the US and in Canada and the best train line, Amtrak won big. Not only did it snag the second spot for the best ground travel provider in the US (right after Concord Coach Lines), but it also occupied all first six spots on the best train line in the US ranking. Additionally, according to Wanderu, 20 of Amtrak's regional services were recognized in the awards as winners or honorees across multiple "Best by Region" categories.
The absolute winner of the best train line category is the Amtrak Maple Leaf line, which connects the Big Apple and Toronto. According to users, it is the train line that provides the best service of all, and it even features breathtaking views across the New York countryside.
According to the just-announced awards, these are the six best train lines in the US:
1. Amtrak Maple Leaf
2. Amtrak Hiawatha
3. Amtrak Keystone Service
4. Amtrak Saluki
5 (tie). Amtrak Downeaster
5 (tie). Amtrak Illini Service
For a complete list of winners and honorees across other categories, you can visit this website.