The Best Destinations for Your Next Wine Vacation, Ranked
A new study just named the world's best wine regions and vineyards.
Wine is often called the nectar of the gods, and while I don't fancy myself an expert on celestial beverages, a crisp glass of Argentine Malbec on a cool summer evening certainly does taste like heaven. If you share a similar passion for wine, you've probably considered traveling in order to experience it. You aren't alone—data shows that searches for vineyard tours have increased by 50% in the last year.
For those fancying a journey to one of the best destinations for enjoying wine, travel agency CV Villas has released a new ranking of the world's top 20 wine regions, as well as its most beautiful vineyards.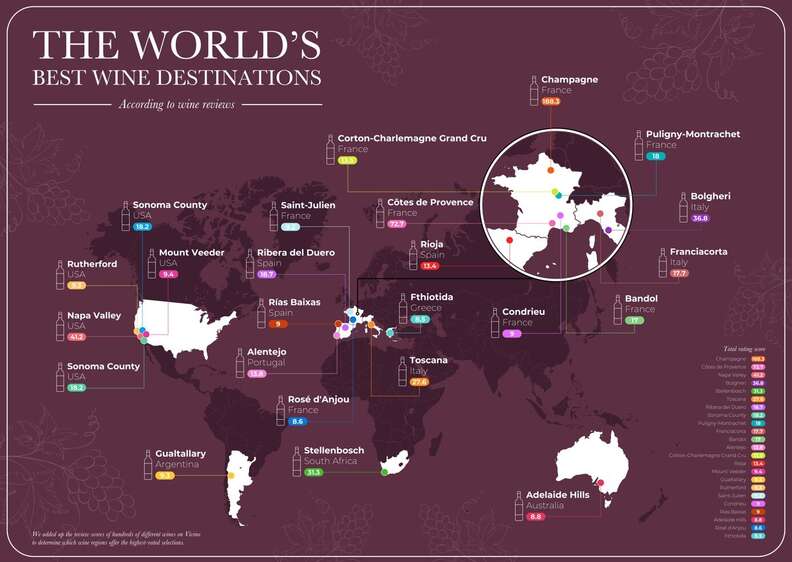 The top wine destinations for a getaway, according to CV Villas, are Champagne and Côtes de Provence in France, followed closely by Napa Valley, California in third place. Rounding out the top five were Bolgheri in Italy and Stellenbosch in South Africa. The ranking was determined by which region was home to the highest-ranked and best-reviewed bottles of wine sold on the online marketplace Vivino.
When it comes to the world's most beautiful vineyards, a different set of factors were considered. "By taking a long list of vineyards from all around the globe, we ran their names through Instagram to see which ones have been shared the most on the social media platform," CV Villas shared.
That data determined that the most aesthetically pleasing wineries in the world is Boschendal, in South Africa's Cape Wineland district, followed by Penfolds Magill Estate, Australia.
To read the full ranking of top wine regions and wineries, visit this website.
If you've been dreaming of going on a full on wine-cation but didn't know where to start, now you've got a pretty comprehensive roster of inspiration, whether you are planning to travel within the US or halfway around the globe.