These Are the 25 Best Workplaces in 2019, According to Employees
There are plenty of reasons to stress in the midst of a job-search process. First you need to decide what sort of career move you want to make and invest a bunch of time researching what's out there...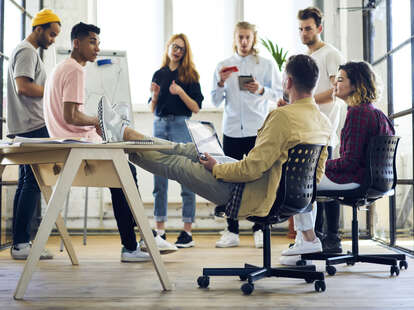 Shutterstock
Shutterstock
There are plenty of reasons to stress in the midst of a job-search process. First you need to decide what sort of career move you want to make. Then, even if you do end up scoring a dream gig, there's always the risk you realize the company culture sucks when it's too late. Luckily, a team of experts just did some of the hard work for you and put together a new report that reveals the best workplaces out there right now, according to employees.
To figure out where employees are most satisfied with their workplaces, the research team at ever-popular career site Indeed crunched the numbers on countless employee reviews on their "overall workplace experience" from folks who've worked at some of the country's largest companies. Specifically, they took into account employers in the Fortune 500 that have had at least 100 verified employee-submitted reviews posted to Indeed's site in the past two years, then identified the ones that were the highest rated and ranked them accordingly.
Earning bragging rights as the company with the best workplace in 2019 is Adobe, followed by Facebook, with Southwest Airlines rounding out the top three. The full list of the top 50 is available here, but here are the employers who made it into the top 25.
25. Viacom
24. Charles Schwab
23. Booz Allen
22. Amgen
21. Nike
20. Capital One
19. Cisco
18. Apple
17. Fluor Corp.
16. Freeport-McMoRan
15. JetBlue Airways
14. Eli Lilly
13. Fannie Mae
12. Salesforce
11. Bristol-Myers Squibb
10. Johnson & Johnson
9. Microsoft
8. eBay
7. Delta
6. Costco Wholesale
5. Intuit
4. Live Nation
3. Southwest Airlines
2. Facebook
1. Adobe
A good deal of the names on this year's list have appeared on it in the past. In fact, both Facebook and Southwest have been in the top five for the past three and four years, respectively. And while Facebook's position on the list is a bit surprising considering its rocky reputation over the past few years, Southwest's makes sense, as it's famously very focused on keeping employees happy. There were also a handful of newcomers, including Land O' Lakes and Darden Restaurants, which owns several huge restaurant chains around the country.
There are some other details worth pointing out, too. Though there's quite a bit of diversity in industry representation, four airlines made it into the top 50 (Southwest, JetBlue, Delta, and United), while tech companies also ranked quite well overall.
And sure, anonymous online reviews aren't necessarily always reliable, but this is at least good intel to consider next time you're doing a deep dive on new job opportunities.
Sign up here for our daily Thrillist email and subscribe here for our YouTube channel to get your fix of the best in food/drink/fun.