These Airports Have the Nation's Worst Summer Travel Delays
Shutterstock
Shutterstock
Airlines for America has projected the busiest summer travel season airlines have ever seen. The estimate predicts a total of 234.1 million air travelers between June 1 and August 31. That's great for airlines, but more travelers can mean more soul-crushing delays. No one is looking to spend precious vacation time in airport motels eating musty noodles out of styrofoam cups.
That makes Milecards' annual airport delay report as valuable as ever. The company has dug into which airports are chronically problematic by pulling together 10 years of data on travel delays from the Department of Transportation.
Delays are bound to happen and airport workers often deserve some slack, because it's usually not their fault. But the numbers presented here are more depressing than Manchester By the Sea. The report shows bleak stats, such as only 66.5 percent of flights arrive on time at Newark Liberty Airport and just 66.9 percent of flights are on time at New York's LaGuardia Airport, justifying all those nasty things you said about it.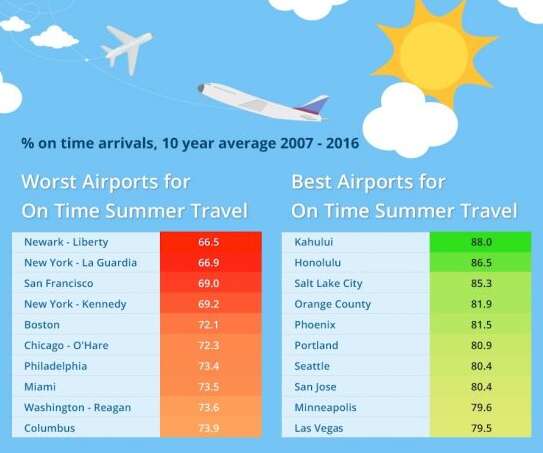 Overall, Milecards found that 40 percent of the U.S.'s top 50 airports see increased delays during the summer. Those mucky airports include major hubs in Atlanta, Boston, both the Dallas airports, New York City's JFK, Orlando, San Antonio, and all three airports near Washington D.C.
At the other end of the spectrum, Kahului and Honolulu were found to be the most reliable. Those numbers aren't quite as grim, with 88 percent of flights arriving on time in Kahului and 86.5 percent in Honolulu. On the mainland, Salt Lake City leads the way (third overall) with 85.3 percent of flights landing as scheduled. In the Midwest, Minneapolis (79.6%) and Detroit (79.2%) were the most reliable.
Take a look at more in-depth numbers about the percentage of flights that arrive on time below.

Sign up here for our daily Thrillist email, and get your fix of the best in food/drink/fun.
Dustin Nelson is a News Writer with Thrillist. He holds a Guinness World Record but has never met the fingernail lady. Follow him @dlukenelson.