These Are the Best and Worst Emoji to Use on Dating Apps
Dating apps can be frustrating. You have only seconds to make a first impression. If that impression isn't positive, it's another night alone with Chef Boyardee. [Face Without Mouth] It may feel like the game is stacked against you. However, the dating app Clover has insights that might help. [Light Blub] Clover has compiled data from messages sent inside its app to understand what kind of messages get responses. [Thumbs Up]
Clover analyzed 90 million messages sent by its three million users to find out how emojis impact responses. [Fire] At a basic level, the company discovered women reply 5 percent more frequently to an opening message that contains an emoji. For men, that number is eight percent. Yet, only 10 percent of first contacts contain an emoji. [Question Mark]
While the results may vary from app to app because of the differing user bases, Clover's findings have practical applications for users. "Considering 82% of our users are aged 18-34, we were pretty surprised to learn that only 10% of opening messages contained emojis," said Isaac Raichyk, CEO Clover. "Based on our findings, we recommend singles make use of emojis to break the ice and improve their odds of success."
Clover drills down on the data to provide practical applications of its findings. The top four emojis that got responses from women were the sassy girl, hungry face, tongue-out face, and smirking face emojis. For men, the smirking face, crazy face, laughing crying, and relieved face emojis most frequently got responses.
Clover also shared the emojis that were most sent and that least-often got a response. Take it all with a grain of salt. The emoji that most often resulted in no response when sent to men was the Vulcan salute emoji. However, women may have just been weeding out deal-breaking character defects. You don't like Star Trek? Bye.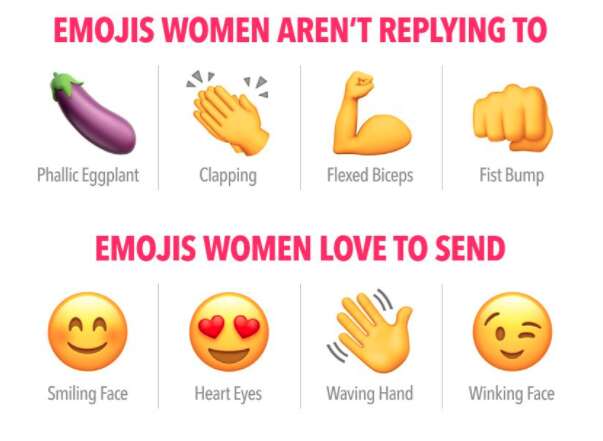 Also, it seems possible that the poo emoji was sent to men with the intention of not getting another response. He sends an eggplant; she send a poo. Conversation over.
Nevertheless, this information may prove useful to singles whose mother would say they're a real catch. Use this information for good. Go make your mom proud. [Fist Bump]
Sign up here for our daily Thrillist email, and get your fix of the best in food/drink/fun.
Dustin Nelson is a News Writer with Thrillist. He holds a Guinness World Record but has never met the fingernail lady. Follow him @dlukenelson.