Blake Lively's New Low-Calorie Cocktail Mixers Are About to Upgrade Your Cocktail Game
They might pair well with a little Aviation Gin. What do you think?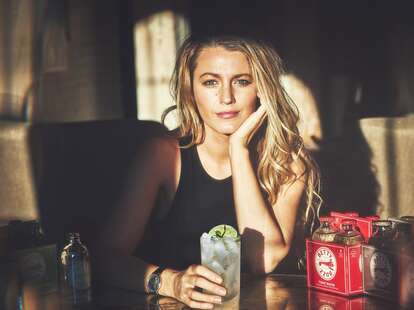 Courtesy of Betty Buzz
Courtesy of Betty Buzz
Blake Lively's husband Ryan Reynolds is known as something of a booze tycoon thanks to his part in building Aviation Gin, which sold to Diageo for over $600 million earlier this year. But the Gossip Girl alum isn't a fan of alcohol herself, and this preference surely inspired her latest venture, a line of low-calorie, non-alcoholic mixers.
On Thursday, the actor announced the launch of Betty Buzz, a collection of non-GMO, kosher, and gluten-free fizzy beverages made for sipping as they are or with the liquor of your choice.
"I don't drink. I know that's odd coming from the wife of an infamous gin slinger," Lively said in a press release. "Over the past many years of mixing but not drinking cocktails, it became clear mixers are the unsung heroes of the drink world and deserve just as much love as alcohol. We've spent the last three years crafting Betty Buzz and are so excited for people to finally taste it."
The first Betty Buzz flavor release include classic Tonic Water, Sparkling Grapefruit, Meyer Lemon Club Soda, Sparkling Lemon Lime, and Ginger. Each serves two cocktails per nine-ounce glass bottle and is already available online and at retailers nationwide.
As for the brand name Betty Buzz, it's more than just a catchy moniker and is actually a deeply personal choice inspired by those closest to her, including Lively and Reynold's youngest daughter Betty.
"My dad's name was Ernest Brown Jr. but he was known as Ernie Lively. He gave up his last name when he married my mom and any success he, or I, have experienced has been in a name that isn't his," Lively added in the release. "So when I was working hard to build this company, I wanted any success to be in a name that was meaningful to him. Betty was his mom and his sister's name. Also, Ernie would not be the best name for a mixer."
Megan Schaltegger is a staff writer at Thrillist.