Bow Down, There's a New Beer Named After Beyoncé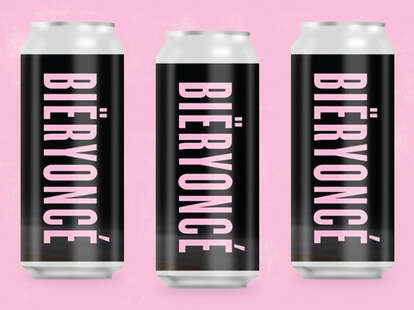 Lineup Brewing/Maggie Rosetti
Cue the I been drankin' jokes, because a brewery in Brooklyn just unleashed a new German pilsner called Bieryoncé that's inspired by and named after Queen Bey herself -- complete with a pink and black can design reminiscent of the iconically minimal art featured on her self-titled 2013 album. Bow down (and drink up), bitches.
The sudsy adult beverage is the latest offering from Lineup Brewing, a female owned and operated independent brewery based in Brooklyn, and actually came about after one of its head brewers had to bail on a Beyoncé concert. In an interview with Bon Appetit, owner Katarina Martinez explained that she initially brewed the 5% ABV pilsner for an Oktoberfest party that she ended up having to work and miss out on a big show by B. So, she decided to name the new recipe after the showstopping highest paid woman in the music industry. It also follows Lineup's tradition of giving its beers unique and irreverent names, like their I Bet You Think This Beer Is About You IPA, the Did You Hit It?! American pale ale and the In Defense Of Ghosting, a 4% ABV session IPA.
Right now, distribution is limited, but you can sip Bieryoncé and pick up a four-pack at a handful of outposts around Brooklyn and Manhattan including Pine Box Rock Shop, The Ginger Man, Beer Karma, and Malt and Mold.
h/tBon Appetit
Sign up here for our daily Thrillist email and subscribe here for our YouTube channel to get your fix of the best in food/drink/fun.