The 'Beyoncé Bounce' Boosts Red Lobster Sales in Ways You Wouldn't Believe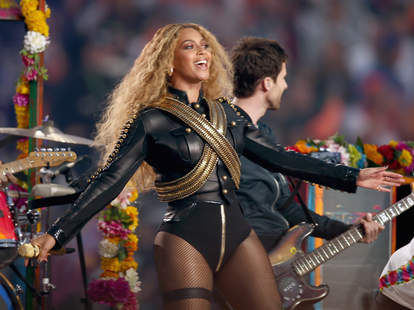 Beyoncé surprised, stunned, and downright slayed this weekend with the sudden release of her new "Formation" single on YouTube and, of course, her spectacular performance during the Super Bowl 50 halftime show. But, apparently, the pop queen's influence on the world didn't stop there, with Red Lobster revealing this week that it saw a huge boost in sales thanks to a mention in the hit song's lyrics.
In a verse a little more than halfway through the politically charged video, Beyoncé -- with half her face obscured by a black hat, and middle fingers raised to the camera -- sings, "When he fuck me good, I take his ass to Red Lobster (because I slay)." The lyric, and all of its unapologetic sexual glory, boosted sales at Red Lobster restaurants across the country by an incredible 33% on Sunday compared to the same day last year, executives told CNBC. The company has gone as far as dubbing it the "Beyoncé Bounce," and some restaurant employees have even renamed menu items after the superstar, per the report.
In a statement to the network, Red Lobster CEO thanked Beyoncé for the boost, saying, "We are absolutely delighted with what we saw over the weekend, particularly the consumer sentiment that we saw expressed. It's clear that Beyoncé has helped create some Red Lobster fans, and we are very grateful to her for that."
On Saturday, Red Lobster was quick to express its gratitude to Queen Bey on Twitter in the hours after the video dropped, with the below tweet drawing ridicule from some fans for being a tad, well, cheesy. 
Red Lobster continued to praise Beyoncé in several additional tweets over the last few days, repeatedly capitalizing on the so-called "bounce." So far, it's unclear how the seafood chain will return the favor, but you can bet your biscuits she and Jay Z will never pay for their postcoital popcorn shrimp again.
Sign up here for our daily Thrillist email, and get your fix of the best in food/drink/fun.
Tony Merevick is Cities News Editor at Thrillist and could go for a nice Cheddar Bay Biscuit, or two. Send news tips to news@thrillist.com and follow him on Twitter @tonymerevick.