The Top Tourist Traps in Every Country, Based on Visitor Reviews
Plus, a detailed look at the tourist traps to avoid in each U.S. state.
One of the hardest parts of planning a trip is not booking the hotel or finding cheap flights. It's ensuring that when you get to the destination you've fantasized for whatever period of time, you don't end up in one disappointing tourist trap after another. That's not to say all popular tourist spots are traps; instead it's the sort of experience that takes from—rather than adds to— your traveling experience. Long lines, big crowds, and steep prices can turn even the most iconic location into a nightmare.
While some may feel obvious, the true cunning of tourist traps is that you normally only notice about half way through the experience when it's too late to get back your money or your time. Casago, a platform for vacation home rentals, created a ranking for the biggest tourist traps in the United States and around the world, based off of TripAdvisor reviews that have the words "tourist trap" in them.
Below are the top tourist traps in every country, based on visitor reviews.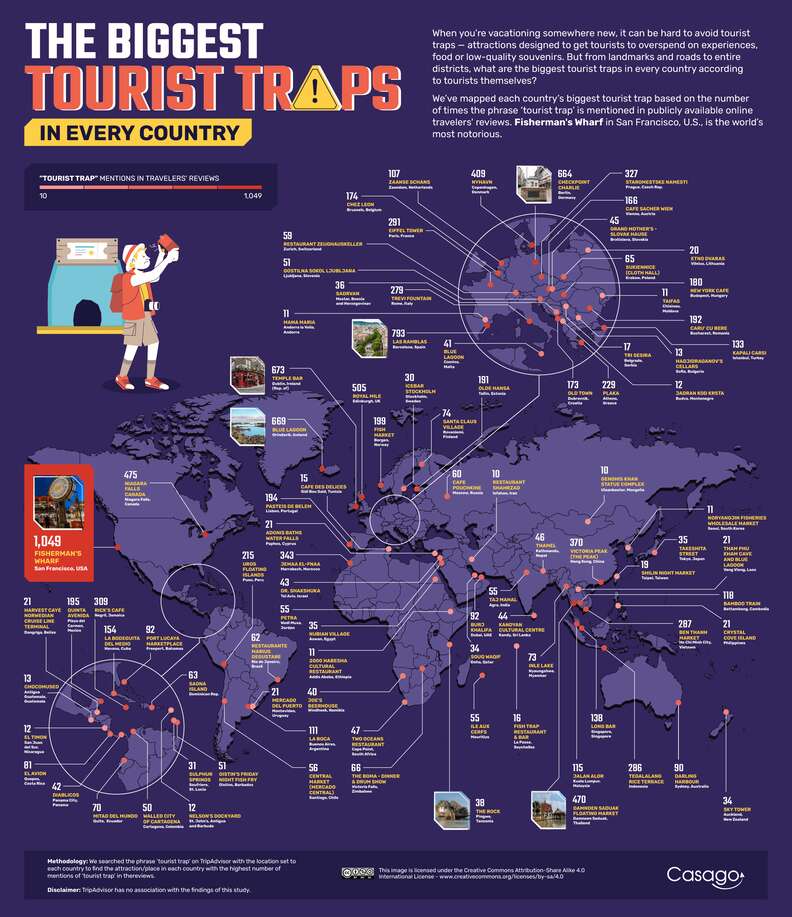 Of the top 10 tourist traps around the world, four are located in the US. The top tourist trap in the world and in the United States, according to the analysis, is Fisherman's Wharf in San Francisco, which features more than 1,000 reviews on Tripadvisor containing the words. In second place in the world are Las Ramblas in Barcelona and the Dole Plantation in Hawaii. In the UK, Edinburgh's Royal Mile is listed as the biggest tourist trap. See the top 10 tourist traps in the US and around the world in the interactive table below.
You'll notice that a lot of the biggest traps are pretty well known: Times Square in New York City, the Temple Bar in Ireland, the Blue Lagoon in Iceland. That's not to say that these locations should automatically be stricken from your itinerary, just that when planning to visit you should plan ahead and keep in mind that it probably shouldn't be the anchor of your travel plans.