This Gorgeous Italian Town Is Handing Out Historic Homes for $1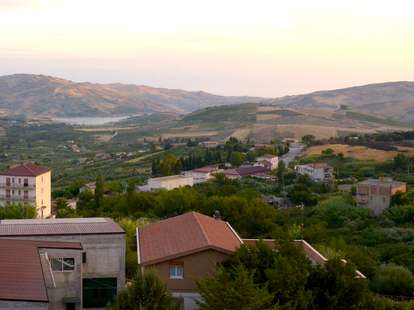 Recently, Italy ranked No. 4 among places Americans are most likely to visit, which comes as no surprise to the majority of Americans with cousins studying abroad in Rome. In an effort to combat overtourism, Rome actually started fining tourists $450 for sitting on the famous Spanish Steps. But the lesser-known small towns in Italy have the opposite problem -- while they're gorgeous and historical, they're vacant. That's why we've recently seen villages like Mussomeli and Sambuca selling homes for under $3, hoping to revitalize the economy by attracting people who are interested in committing to refurbishing the old houses.
And now Bivona, a small town in the heart of Sicily, is offering historic homes for just $1 -- and the deal is cheaper than we've seen in other regions of Italy. While Mussomeli required buyers to put down a deposit of over $5,000 and promise to start renovation within three years, Bivona is asking only for a bond of $2,750 and a commitment to starting the renovations in four years. That means for just a couple weeks' worth of pay you get to take your lovers to a small town in Italy and show them the place you bought and "intend to renovate sometime in the future." Hot.
Bivona's culture councilor Angela Cannizarro told CNN Bivona's population has halved in the last 40 years. On top of the already powerful draw of metropolitan life, Italy's financial crisis in the early 2000s led to a diffusion of young people from small, economically fragile towns to regions with more opportunities in and outside of the country. Cannizarro hopes to bring back not only all of the residents but the town's magical 16th Century vibe.
"We want to recover the lost grandeur of our greatest time in history," said Cannizarro. "Back in the Renaissance, when 8,000 people lived in Bivona and it was a flourishing feudal duchy blessed by Emperor Charles V."
Cannizarro said renovations can begin one year after all building permits are granted -- and there are additional incentives for people who want to be a part of the 16th Century rendition.
"There will be appealing tax bonuses for those who decide to take up residency and actually move here," she said.
If this incentive is not of interest to you, but Italy is, a coastal-hugging region east of Rome called Molise is offering up to $27,000 to anyone who wants to move there and start a business. And if Italy is too far for you, there are also tons of places in the US that will pay you to move there.
Sign up here for our daily Thrillist email and subscribe here for our YouTube channel to get your fix of the best in food/drink/fun.