Everywhere You Can Get Super-Cheap Pizza on Black Friday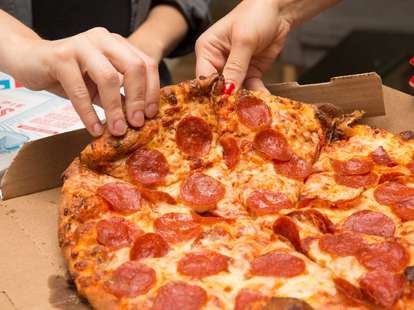 On the hunt for more Black Friday deals? Check out our running lists of the best sales at Walmart and GameStop as well as the best discounts on high-end TVs and travel. And if you're hungry from all the shopping, we've got you covered with deals on tons of free food from your favorite chains. Best of luck out there!
I love Thanksgiving as much as the next, but more than that, I love Thanksgiving leftovers. And while you'd think I'd get my fill on the actual holidays (seconds are the bare minimum here, people), I don't. I'm piling my plate with turkey and mashed potatoes until my fridge is fresh out.
But here's the thing: if you're chowing down on stuffing and pumpkin pie for breakfast, lunch, and dinner, you're gonna wind up depleting your supply before Monday. So why not switch it up for Black Friday? Much like TV's, bluetooth speakers, and that Instant Pot you've been itching for -- pizza is on sale. Plus, you'll need to carbo-load if you're planning to brawl a bunch of suburban moms for that last pair of AirPods in stock.
Mountain Mike's Pizza
The deal: Snag $5 off with code "820028" when you order two medium pizzas.
When: November 29 - December 13
Fresh Brothers
The deal: Get a free medium Cheese Original Crust Pizza and extra $5 when you buy a $50 gift card.
When: November 29
Papa Gino's
The deal: You can get 20% off online orders with promo code "7650."
When: November 29-December 1
Slice
The deal: get $5 off your first order (there is a $5.50 minimum, FYI) when you use code "PARTYPIZZA."
When: Through December 1, 2019
Blaze Pizza
The deal: You can score $5 off your next pizza when purchasing a $25 gift card online or in stores, but only for a short time.
When: Ongoing
Pizza Hut
The deal: Large three-topping pizzas are available for just $7.99 each, when you order for pick-up.
When: Ongoing
Little Caesars
The deal: Get free Crazy Bread when you order any pizza online using code CRAZY3B.
When: Ongoing
Hungry Howie's
The deal: Grab $1 medium one-topping pizzas when you buy a regularly priced large. Use code "LHP10."
When: Ongoing
Domino's
The deal: You can't go wrong with the chain's classic "Mix & Match" offer. Order two or more pizzas, pasta, bread bites, or boneless wings for $5.99 each.
When: Ongoing
7-Eleven
The deal: Hit up your local 7-Eleven and you can leave with two slices of pizza for $2.
When: Through December 31
Cici's
The deal: Get a three-course combo deal (with Cheesy Bread, a large one-topping pizza, and a small Cinnamon Rolls) for $9.99.
When: Through January 5, 2020
Sign up here for our daily Thrillist email and subscribe here for our YouTube channel to get your fix of the best in food/drink/fun.
Megan Schaltegger is a staff writer at Thrillist. Follow her @MegSchaltegger.