Here's Where The 'Crocodile' Episode of 'Black Mirror' Was Filmed
The fourth season of Black Mirror only dropped on Netflix a few days ago, but you better believe diehard fans have already plowed through all six episodes. And while every fresh installment of the critically acclaimed and enthralling anthology series leaves viewers pondering lots of tough questions, many are wondering one very specific thing about "Crocodile," arguably the bleakest episode in the latest batch: Where was it filmed?
Without giving too much away, "Crocodile" centers around a woman coming to grips with a troubling event in her past, and going to rather, uh, extreme lengths to keep a long-buried dark secret from seeing the light of day. The story is grim and upsetting, but the episode is nonetheless visually stunning and beautiful thanks to a breathtaking backdrop of both snow-capped terrain and ultramodern architecture. Naturally, it got people wondering where the Black Mirror team shot it. If you guessed Iceland, you win the prize.
Per BM producer Annabel Jones, the Nordic island nation provided the ideal landscape to tell the story. As she told the Independent "Crocodile is a beautiful, more personal study. It's set in Iceland which introduced a totally new palette – one of the privileges of doing Black Mirror is the opportunity to create different worlds and moods and tones."
However, it wasn't the smoothest of shoots, according to the episode's director, John Hillcoat. In an interview with Small Screen he recounted that filming had to be suspended due to a huge snowstorm and the crew resorted to melting ice with boiling water in order to keep the shoot going. "It's very humbling because it's a constant reminder of how powerful nature is. It adds energy. The world is right in front of you, and you have to deal with it," he said.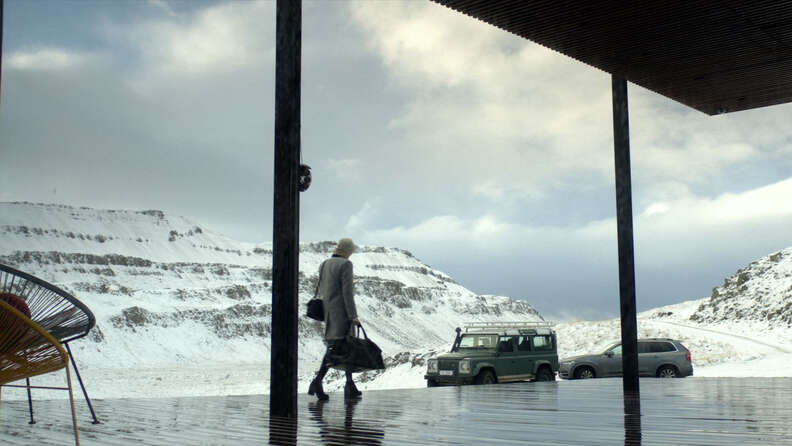 The good news for those entranced by Iceland's natural beauty showcased on-screen and want to visit is that you can easily do just that without walloping your wallet. Just please don't take any cues from Crocodile's protagonist while you're there.
h/tExpress UK
Sign up here for our daily Thrillist email and subscribe here for our YouTube channel to get your fix of the best in food/drink/fun.