Taco Bell Is Testing a Forbidden Bowl With an Ingredient No One Else Is Using
Taco Bell is once again tinkering with ingredients no other fast food restaurant is touching. A month ago, the chain basically tested spicy Pop Rocks in burritos. Now, Taco Bell claims to be the first fast food restaurant using black rice. "No other [fast food restaurant] has tested a black rice product like this," a spokesperson tells Thrillist.
The Forbidden Bowl and Forbidden Burrito are being tested at Taco Bell's Irvine location where new products frequently wind up. It's forbidden because black rice is also known as forbidden rice, a name earned because it was only eaten by royalty in ancient China.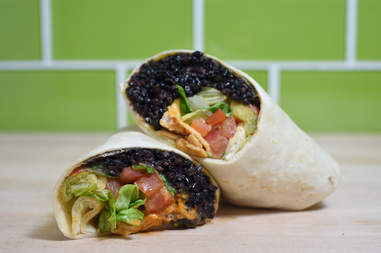 Taco Bell
While it looks like it's white rice cooked with activated charcoal, it's not actually riding that trend. Black rice is an antioxidant-rich ancient grain. Both the burrito and the bowl are loaded with black rice, three crispy half moons of avocado, and a new sauce containing cayenne pepper and garlic onion seasoning. On top of that, you add your choice of protein and fresh vegetables.
Between the veggies and a healthy alternative to white rice, it almost looks like something you're more likely to see at Chipotle.
However, this Forbidden fruit is only available for a week. You can attempt to be Taco Bell's Adam or Eve today through September 21, then it's going to be forbidden because they won't have the ingredients available.
Sign up here for our daily Thrillist email, and get your fix of the best in food/drink/fun.
Dustin Nelson is a News Writer with Thrillist. He holds a Guinness World Record but has never met the fingernail lady. Follow him @dlukenelson.