Remember that opening scene in Titanic where old Rose is in the submarine, wistfully looking at the shipwreck, and eventually rambles on about how she's basically responsible for Jack's death? Well, now you have the opportunity to trek down to the storied wreck yourself thanks to a new excursion being offered by Blue Marble Private, a luxury travel company in the UK.
Recommended Video
Art of the Meal: Chloe Rose Makes Super Mario Bros Art With Hot Sauces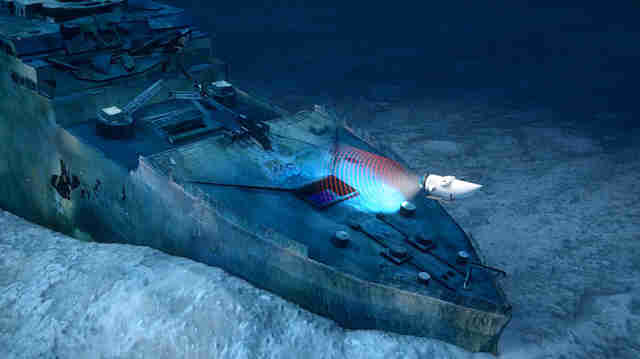 The trip, aptly named Dive The Titanic, will offer a select group of guests the chance to descend 13,000 feet via mini submarine to the remains of the world's most famous shipwreck with a crew of experts, who'll give you a tour of the doomed oceanliner -- including its famous deck and staircase -- where it settled after sinking nearly 105 years ago. 
Setting off from Newfoundland next May, the eight-day trip will be open to just nine well-heeled passengers at a time, who'll be shepherded by helicopter or seaplane out to a yacht near the wreck. There, they'll be treated to lectures and in-depth sessions on both the Titanic's history as well as the mechanics of deep-sea exploration. Then, weather-permitting, they'll board a specialized titanium and carbon-fiber submersible, and descend nearly three miles into the North Atlantic to the fabled site, which has been visited by fewer people than have summited Everest or travelled to space.
Unsurprisingly, booking yourself a spot doesn't come cheap. The cost, per person, is $105,129 -- or the inflation-adjusted equivalent of what people paid for a first class ticket on the Titanic's maiden voyage. Fingers crossed, that's where the trip's similarities end. 
Sign up here for our daily Thrillist email, and get your fix of the best in food/drink/fun.