Buffalo Wild Wings Is Bringing Back Its BBQ Sauce Made With Blue Moon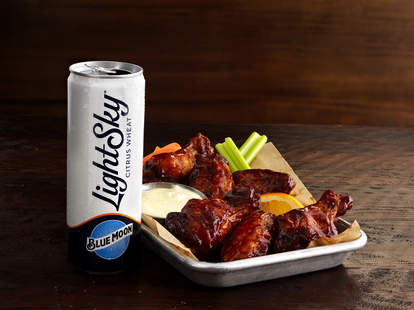 Courtesy of Buffalo Wild Wings
Buffalo Wild Wings is big on bringing back fan favorites. In January, the wing slingers brought back the weekly BOGO wings deal. (That's on top of another weekly BOGO wings deal it brought back in late 2019.) Now, like meat for hobbit-delivering orcs, Blue Moon BBQ sauce is back on the menu. 
It's been two years since the witbier-infused sauce was listed among the 24 wing flavors B-Dubs offers, but it returned on February 1 and will stick around through the end of March. The sauce is made with Blue Moon, "sweet citrus," and a blend of spices that includes coriander. When you order the Blue Moon wings, they're served with an orange slice, just like an actual Blue Moon. Nice.
The return may or may not have something to do with Blue Moon pushing its relatively new light, low-calorie beer, Light Sky. Breweries are betting that low-calorie beer might be the next hard seltzer or at least cut into the massive hard seltzer boom from last year. Light Sky is Molson Coors' play for the light beer crown. Naturally, you'll be able to get one of those when you order your Blue Moon wings. Though that is a pretty easy food and beer pairing, and it's bound to go well together. 
Sign up here for our daily Thrillist email and subscribe here for our YouTube channel to get your fix of the best in food/drink/fun.