Blue Moon Is Unleashing a New Iced Coffee-Flavored Blonde Beer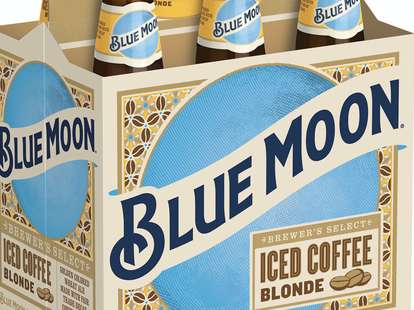 Blue Moon
Blue Moon
Don't get me wrong, I love a good stout beer. I also love double fisting espresso before drinking beer when I feel too tired to go out. This coffee beer thing, though... I don't know.
But as Socrates once said, "I know that I know nothing about coffee beer." Because the people clearly want these flavored brews, and Blue Moon is now meeting the demand nationwide with the Blue Moon Iced Coffee Blonde, available in stand-alone 6-packs starting November of 2019.
Yes, the first nationally distributed blonde coffee ale is finally coming our way. We've seen craft brewers make these guys in the past, and people who have visited the company's Denver brewery might have already saw the iced coffee ale. But everything has changed now; you can get the blonde-colored wheat ale, with bright coffee aroma and mild malt sweetness, at your local grocery store.
Just FYI, there is no caffeine in the blonde ale. But, for decaf feinds, the days when you have to buy both coffee and beer at Whole Foods are gone.
If you're a big Blue Moon fan, also note that the Belgian White and Mango Wheat beer flavors will also be available in November. If you're a fan of getting buzzed, note that all three have a 5.4% ABV.
And, finally, if you're like me and you're never ever going to buy a coffee beer, check out Blue Moon's mint julep beer.
Sign up here for our daily Thrillist email and subscribe here for our YouTube channel to get your fix of the best in food/drink/fun.