A lot's been made of the burgeoning space tourism industry and the fact that wealthy tourists will soon be able to book themselves on rockets into orbit or on jaunts all the way to the moon. But what sort of amenities does a seat with a six-digit price tag come with besides a sturdy seatbelt and barf bag? We have a better sense now that Jeff Bezos' Blue Origin has revealed the first interior shots of the vessel it plans to use to shoot paying passengers into space as early as next year.
Recommended Video
Ghost Kitchen: This NYC Restaurant Chain is Providing Free Catering for Health Care Workers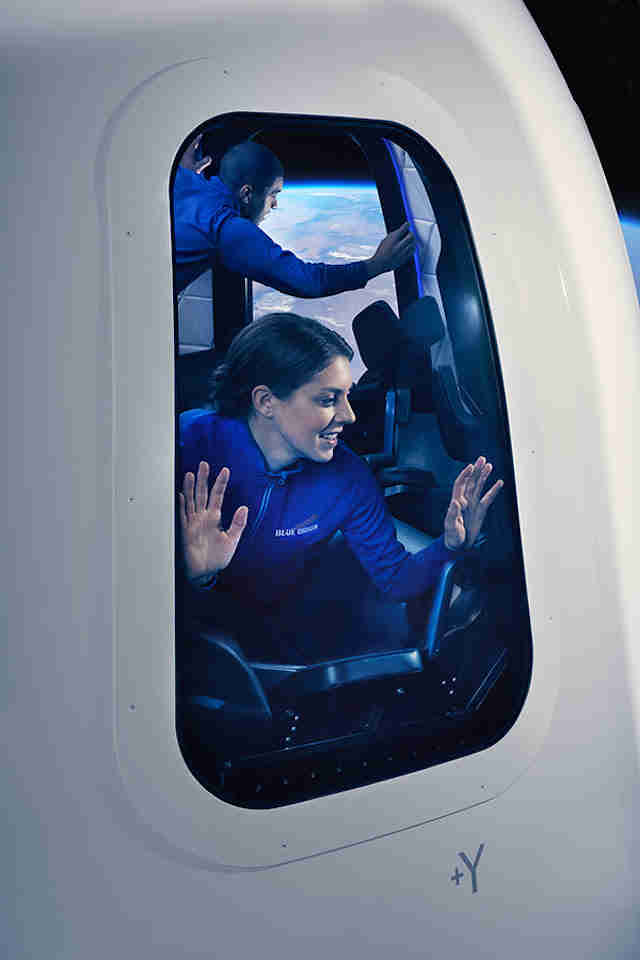 The images reveal the inside of the tip of Blue Origin's reusable New Shepherd vehicle, which it has previously and successfully test-launched and landed five times, including one impressive test of its emergency escape system. The pod, which will detach from the rocket at a designated altitude, is designed to take small groups of six people -- each of whom will pay upwards of $200,000 apiece -- on a quick 10-minute flight into space. During the short trip, they'll get to experience weightlessness for a few seconds before descending at a force of up to 5Gs and eventually gently falling to earth via parachute. 
Besides boasting "the largest windows ever in space," according to Bezos, the pod is equipped with comfy-looking reclined leather seats that face outwards, some sexy mood lighting, and a large cylindrical object jutting out from the middle, which houses the critically important escape system's motor. If you really want to see what it's like up close, there will be a prototype version of the capsule on display next week during the Space Symposium in Colorado Springs. 
The company hasn't yet started accepting deposits from the people who'd like to hitch a ride, but it claims it'll be ready to launch its first passengers at some point next year.
h/t The Verge
Sign up here for our daily Thrillist email, and get your fix of the best in food/drink/fun.