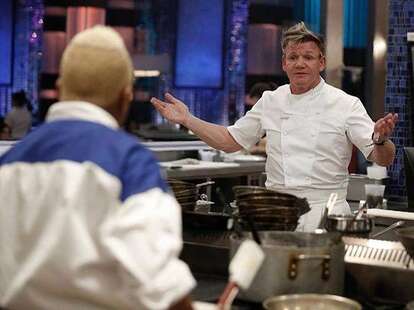 Everyone's been talking about the upcoming Gordon Ramsay and Bobby Flay cooking battle, and apparently today was suppose to be the big day. Except, Bobby hasn't shown up!
Gordon Ramsay broadcasted from Caesars Palace on Facebook Live today ahead of the big 60-minute competition with Flay, which was meant to take place at Flay's restaurant in front of three blindfolded, neutral judges. In Ramsay's own words, he agreed to this less-than-neutral location because he'll do "anything to grill his ass." Just to clarify, Flay's ass is the ass in question. Ramsay was all ready to take on his celebrity rival but....Bobby's in New York?
It remains unclear whether Flay is just fashionably late, pulling some publicity stunt, or if he actually stood Ramsay up. For continued updates on the chef debacle, you'll want to stay glued to Ramsay's Facebook page. And watch the video to see the whole ridiculous scenario unfold.
Come on, Flay. Everyone's waiting.

Sign up here for our daily Thrillist email, and get your fix of the best in food/drink/fun.
Kara King is a News Writer at Thrillist and is Team Ramsay. Send news tips to news@thrillist.com and follow her at @karatillie.