NFL Player Says His Body Is 'Built on Taco Bell,' Becomes Our New Role Model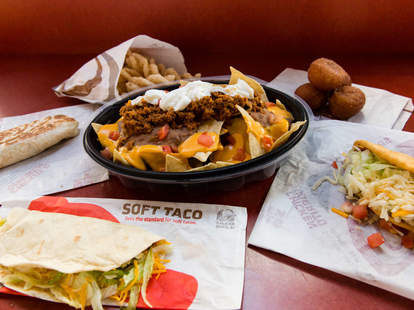 Tom Brady sticks to a meticulous plant-based, locally grown, organic diet. The dude doesn't consume sugar, flour, dairy, alcohol, coffee, or any kind of caffeine for that matter. And while it couldn't be further from my personal eating habits, I figured, "Hey, I'm not an athlete. What do I know?" But turns out, you don't have to deprive yourself of life's greatest pleasures, like Taco Bell.  
During Sunday Night Football intros, NFL star Matthew Judon said his body is "built on Taco Bell," not soup broth dinners. This isn't just some made-for-TV line either.
"I've been about Taco Bell ever since I was in college, man," the Grand Valley State alum told the Baltimore Ravens site. "It's been my favorite fast-food restaurant. That's a delicacy. We don't get to eat it too often, but after games, if they're open, I go there." 
The self-proclaimed T-Bell "fiend" has been sampling the chain's latest and greatest menu additions. Because, let's be honest, you're not a true fan unless you've housed at least half the menu. "The fries, those are good. Crunchwraps, those are good. And the breakfast is off the chain," he said. So, uh, Taco Bell? Meet your new spokesman. 
When Judon was drafted by the Ravens back in 2016, the Ravens linebacker told reporters that his first official NFL check would go straight to Taco Bell. "I mean, obviously I'll have way more money than I'll know what to do with, but while I'm pondering what I'm going to do with my money, I'll be eating a Chalupa or something," he said.
Considering Baltimore took down the New England Patriots 37-20 in Sunday's matchup, I'd say the Taco Bell diet is actually more effective than Tom Brady's sad, restrictive one.
MORE: What's the absolute best thing to order at Taco Bell? We found out. 
Sign up here for our daily Thrillist email and subscribe here for our YouTube channel to get your fix of the best in food/drink/fun.
Megan Schaltegger is a staff writer at Thrillist. Follow her @MegSchaltegger.