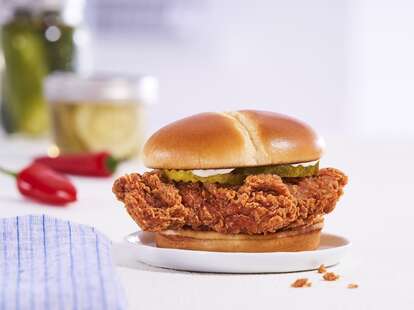 Courtesy of Bojangles
Courtesy of Bojangles
We all know that Popeyes' sensational fried chicken sandwich is stupidly good. But that doesn't mean it's the only one you should buy. Ever heard of a little chain (and by "little chain," I mean a regional cult favorite) called Bojangles? The North Carolina-based fast food company is introducing an all-new chicken sandwich, and judging by the press photos we've seen alone, it looks like it could be a top contender for satisfying your chicken sandwich cravings.
Following a popular test launch across several markets including South Carolina, Bojangles is bringing its Bo's Chicken Sandwich to stores nationwide.
"Bojangles knows a thing or two about delicious, perfectly flavored chicken served right, so who better to give fans a chicken sandwich that is sure to please," Chef Marshall Scarborough, vice president of menu and culinary innovation at the company, said in a press release. "And we can say with confidence that Bo's Chicken Sandwich is so cluckin' good you know it could only be Bojangles."
The new menu item boasts a sizable, hand-breaded chicken breast topped with thick-cut dill pickles (fellow chicken sandwich fans know the importance) and a zesty mayo—all sandwiched on a toasted, buttery bun.
"Our team had a blast perfecting this sandwich, and we can't wait for you to try it for yourself," Scarborough added.
The sandwich is now available for pickup, delivery, and dine-in at participating locations for $3.99 a pop. If you want to feel real southern, you can always go the combo route and snag a Bojangles' Legendary Iced Tea with it.
Megan Schaltegger is a staff writer at Thrillist.