Sleeping under the stars is one of those things everyone should do at least once. There's nothing like going off the grid and dozing off with a rockstar view of the night sky. Now, you can get the full experience without having to rough it like a pleb in a sleeping bag, thanks to this stunning new resort situated in the largest salt flat in the world that's been designed specifically for stargazers. 
Kachi Lodge, a new luxe "glamping" resort in Bolivia's Salar de Uyuni -- the world's largest salt flat -- is decked out with a series of pod-like structures specifically outfitted to let guests sleep with a panoramic view of the night sky. And since it's located in such a remote area at an exceptionally high altitude (over 11,000 feet), the stars are on display like few other places on Earth.
Recommended Video
Please Don't Hang Up: The Best BBQ & Barcade in Dog-Friendly Kansas City
The lodge, which is set to open this month, sits at the foot of the Tunupa Volcano, and is situated in the arid landscape in such a way that it almost resembles a colony on a different planet. However, it's packed with Earthly creature comforts. Each geodesic guest dome is set up with the amenities you'd expect from a five-star hotel (soft beige carpeting, minimalist decor, a private bathroom). The marquee feature, though, is the sprawling wall of windows that look out on the salt flat and above from each dome, providing a perfect view directly from the bed. You also have access to telescopes, should you want to get a closer view of what's going on above you.
In the middle sits the main "lodge," a larger geodesic dome that serves as a lounge and dining area for guests, and features similar observatory-like windows along the walls and ceiling. While guests aren't kicking it in their pods or in the lodge area, the Kachi team organizes excursions around the area to visit local villages and explore ancient archaeological sites nearby. You also have the option to hike up to the volcano crater, or take one of their mountain bikes and ride around the flats (no hills!).
Of course, this isn't exactly the most affordable stargazing experience. The lodge has a two-night minimum stay, which will set you back about $2,000 per person (you can add additional nights if you'd like for $1,000 apiece). The cost does include all of your food and drink, though (courtesy of one of the finest restaurant teams in Bolivia), as well as transportation to and from the airport.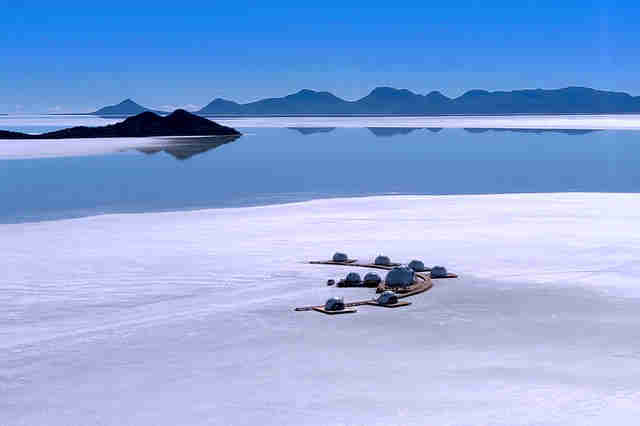 Fortunately, if you'd like to extend your stay and see a bit more of what Bolivia has to offer, the wildly underrated South American country is one of the cheapest on the continent. 
h/t Travel & Leisure

Sign up here for our daily Thrillist email and subscribe here for our YouTube channel to get your fix of the best in food/drink/fun.