You Can Spend the Night in This Huge, 100-Ton Sandcastle Mansion on a Beach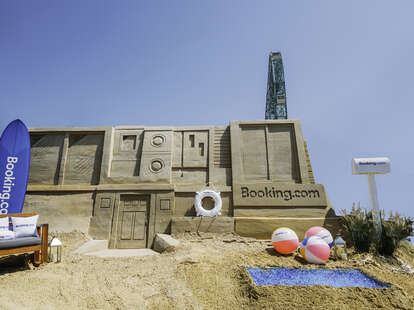 Lying on the beach under the hot sun and dozing off for a few minutes is a pretty delightful way to spend an afternoon. (As long as you don't come out of it redder than Sponge Bob's tie.)
You can now take that sensation to an absurd level. It's like the difference between a daddy long legs and Spider-Man. Booking.com gave master sand sculptor Matt Long more than 100 tons of sand, and he built a sandcastle you can spend the night inside. This week, it becomes available for some lucky beachgoers to rent through the site.
The castle, built to resemble "a modern mansion," is located in Coney Island at the southern tip of Brooklyn. The stay includes dinner for two on the Coney Island Boardwalk (sounds nice, but it could really go either way), sunrise beach yoga, and VIP passes to the small but mighty Luna Park theme park.
The structure is eight feet tall and 18 feet long and wide and absolutely covered in branding. So, it's tiny for a house, massive for a sandcastle, and says "booking" more times than the actual Booking.com website. It'll run you $29 per night to get the reservation, but you're going to have to show off your nimble fingers. You can book starting August 22 at 12pm for a two-night stay on August 23 and 24. So, very few people are going to be able to get in on the stay.
And, because you're wondering if this will end in tragedy, the images look like there's a structure under the sand to stop it from falling in on you. A representative also confirmed that the base of the structure is made of plywood. Additionally, there aren't images of it, but a representative confirmed there's a private bathroom with a toilet and shower. You aren't going to be trekking across the beach at night for a porta-potty.
Sign up here for our daily Thrillist email and subscribe here for our YouTube channel to get your fix of the best in food/drink/fun.