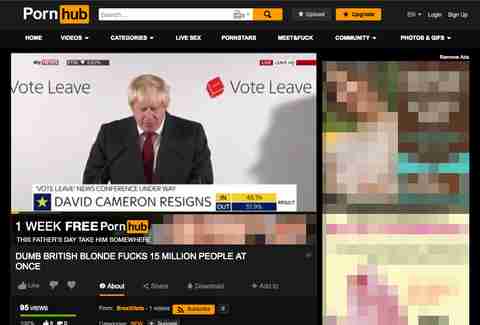 The upload, simply titled "Dumb British Blonde Fucks 15 Million People at Once," contains a staid, 7-minute Sky News clip of Johnson addressing David Cameron's resignation and elucidating further on the Brexit. But that's what makes the joke so perfect. The 15 million in the title, as the Daily Mail points it, likely refers to the Brits who voted to remain in the EU during the June 24 vote.
If you're not sure what all this Brexit talk is about, allow John Oliver to explain as his head begins to explode.
Otherwise, for context, Johnson is no stranger to buffoonery. Whether it was dangling above The Big Smoke on a zip line, pulling in a tug-of-war, or having his flop-mat of a haircut blown in a helicopter, the man opens himself to clowning.
It's just that this time, the stakes are so much higher -- and really, in only a few words, a Pornhub user provided the most penetrating thing on the site since... OK, no need to finish that joke. I don't actually want to get fired.