Now You Can Buy 50-Pound Barrels of Fruit Snacks Stuffed With 1,000 Pouches
Run and tell the Costco addict in your life that something big is coming, something they probably won't have space for in their kitchen and so will have to store in the basement beside their barricade of bulk paper products and vats of off-brand olive oil. The online retail company Boxed just announced that it's now offering a 50-pound, 20-gallon barrel of Fruitmojis fruit snacks. 
For $100 dollars (10 cents per pouch) you can purchase a container of emoji-themed fruit snacks the height of a 6-year-old. The barrel contains around 17 boxes-worth of the sweet snacks or, in the company's words, "1,000 pouches to make it rain gummies all year long." That's enough to make consumers go Heart Eyes, Fire, Fire, Drool, Sweating/Smiling, Crying Laughing, Tongue, Tongue.
If you're wondering what you'd even do with all of these snacks after impulse-buying them, there's always the impending Halloween, a gift for the office, an ironic addition to your home decor, and emotional, human-ish body to hug when you feel alone (as pictured below).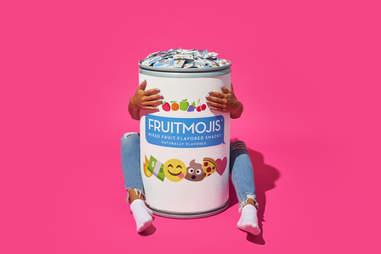 Courtesy of Boxed
PS: If this is your first Boxed order, delivery is free [crazy tongue face emoji].
Sign up here for our daily Thrillist email and subscribe here for our YouTube channel to get your fix of the best in food/drink/fun.