A Kid Allegedly Found a Rat in His Soda Bottle and the Photos Are Gross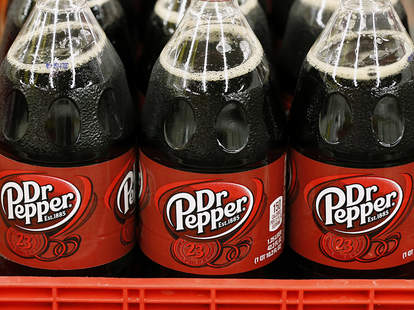 There are plenty of health-conscious reasons to not drink soda. But one that you wouldn't expect: too much daily intake of rat. Unfortunately, that's what a 3-year-old in Texas allegedly found in a bottle of Dr Pepper when he took a big swig.
Local NBC affiliate WFLA reported Tuesday the child was drinking the soda in his car seat and handed the bottle to his grandparents in the front seat. When he asked for the bottle back, that's when they say they noticed Master Splinter gone belly up. 
 
This raises so many questions. How did it take so long to notice? Is this is a hoax (seems likely)? Is the kid ok? And is rat tail one of Dr. Pepper's 23 mystery ingredients?
The family says they took the child to the doctor on Sunday when the incident took place to have blood and urine samples taken to make sure he didn't contract anything from the sugary rat water. They've also contacted the state and the CDC, as well as the producers of Dr Pepper. The Dr Pepper Snapple Group has asked for the bottle for testing, but the family is hanging onto it to have their own tests done on the rat, according to NBC.
In a statement to Thrillist, the Dr Pepper Snapple Group didn't entirely deny the rat could very well have gotten in there:
Nothing is more important to us than the safety and well-being of our consumers. We take all consumer complaints very seriously, and we are very concerned about the call we received yesterday from Mr. Graves about this issue. This is a single, isolated incident, and we're working hard to investigate and resolve the matter with this consumer.

The controls and safeguards we have in our production facilities make it virtually impossible for any foreign object to get into a container at any stage of the bottling process.
If for some horrible reason you require another view of the sugar-preserved rodent, you can catch a couple views of it in the below report from NBC 9.
Sign up here for our daily Thrillist email, and get your fix of the best in food/drink/fun.
Dustin Nelson is a News Writer with Thrillist. He holds a Guinness World Record, but has never met the fingernail lady. He's written for Sports Illustrated, Men's Journal, The Rumpus, and other digital wonderlands. Follow him @dlukenelson.