You Can Stay in This Bread-Themed Hotel Suite That Comes Loaded With Carbs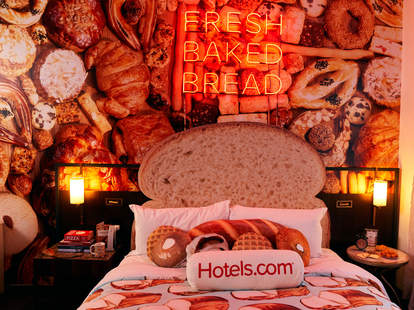 Calories don't count when you're on vacation. It's a scientific method, also known as lying to yourself, but hey, you have to live it up while you're away. And if there's any place to abandon your self control, it's the brand-new "Bread & Breakfast" suite -- a carb-filled haven of bread, bagels, pastries, and pasta -- at the Refinery Hotel in New York City. 
In honor of National Ditch Your Resolution Day (a celebration I can get behind), the Refinery is unveiling an immersive carb-themed hotel experience on Friday, January 17. And not only is the room filled with actual bread, it's decked out with a toast-shaped headboard, a custom "Carbivore" embroidered robe (that's yours for the taking), and baguette slippers.
Courtesy of Hotels.com
"Hotels.com Bread & Breakfast is the latest addition to our list of irreverent, bookable room experiences available exclusively on Hotels.com," Hotels.com President Adam Jay said in a statement. "There's no better time than 'National Ditch Your Resolution Day' to reward our customers with an overnight stay in a room designed floor to ceiling with carbs!"
Courtesy of Hotels.com
The most important suite amenities, however, are the ones you can actually eat. And there's a lot of 'em. The room features its own bakery case (stockpiled with free pastries), complimentary bagels, a cereal bar, and donut wall. As if that weren't enough, your stay comes with a $100 room service credit to order off the limited-edition carbo-load menu, which includes croissants, potatoes, pizza, pasta, pancakes, sandwiches, and more.
Courtesy of Hotels.com
Booking is available beginning January 17 for $225 a night. If you can house enough bread, you'll easily get your money's worth. 
Sign up here for our daily Thrillist email and subscribe here for our YouTube channel to get your fix of the best in food/drink/fun.
Megan Schaltegger is a staff writer at Thrillist. Follow her @MegSchaltegger.