55,000 Pounds of Breakfast Burritos Were Just Recalled for Containing 'Foreign Matter'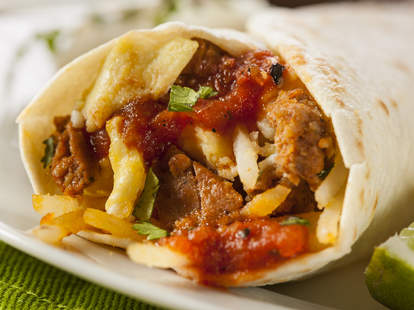 I'm something of a breakfast burrito connoisseur, so when it comes to filling my tortilla, I've got the process down pat. Scrambled eggs, cheese, sausage (or bacon, or both!), potatoes, and loads of hot sauce are all a must, but... plastic bits? Not so much. 
Unfortunately, Ruiz Food is recalling more than 55,000 pounds of its frozen, not ready-to-eat breakfast burritos because of this very reason, according to an alert from the United States Department of Agriculture (USDA). The product in question, which contains eggs, sausage, and cheese, may have been contaminated with "foreign matter" -- aka, not things you should eat. 
According to the USDA, customers should double check their "EL MONTEREY Signature Burrito Egg, Sausage & Cheese" value packs, which contain 12 individually wrapped, for a "Best if Used By" date of January 15, 2021 and lot code of 19288. The product should also include establishment number "EST 45694." You can see the labels here. 
The contamination was discovered after multiple consumers complained of "white, semi-rigid plastic" found in their burritos. Thankfully, there have been no reported injuries or illnesses as a result. Just spoiled breakfasts.
This isn't, however, the first recall we've seen this month. In fact, the Food Safety and Inspection Service has issued numerous warnings to consumers. Fresh Express salad kits were pulled from store shelves as the result of another E. coli outbreak. Trader Joe's sushi was potentially contaminated with Listeria. A bunch of flour was recalled just in time for peak baking season and White Castle's frozen burgers are posing an illiness risk. Stay safe out there my hungry friends. 
h/tABC 7
Sign up here for our daily Thrillist email and subscribe here for our YouTube channel to get your fix of the best in food/drink/fun.
Megan Schaltegger is a staff writer at Thrillist. Follow her @MegSchaltegger.