Woman Leaves Heartbreaking Voicemail to Break Up With Gelato on New Year's Eve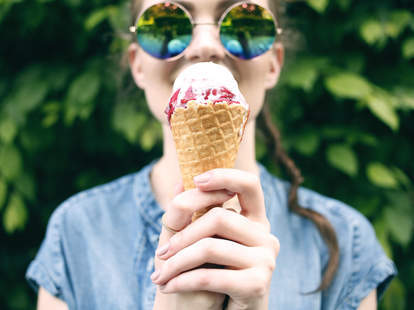 The world is a needlessly cruel place. Any optimist who says otherwise need only watch this video to learn definitively that existence is meaningless.
The video contains a voicemail left for Australia's Gelato Messina on New Year's Eve. They say the message was left by a "very, very upset" customer. The voicemail plays more like a break-up message than anything with weepy demands for an apology, reminiscing on the good times, and reasons why things will never be the same. 
The Gelato maker's crime? Being closed at 6 p.m. on New Year's Eve. "I had plans to buy at least a liter and a half of Messina, as I do every week, and sit on my couch, and eat it and then make New Year's Eve resolutions to never eat it again," the anonymous woman says.
Gelato Messina shared the video on Facebook and they "promise" it's real. At least to the extent that they genuinely found this message left for the store. Whether or not the woman was just having a laugh because she found the store closed is up for debate. 
"It's totally genuine and was left on our voicemail at our Fitzroy store in Melbourne on New Year's Eve. Our store manager initially picked it up and when we heard it we thought it was so good we needed to find her," a spokesperson told Mashable. They didn't say if they found the woman, though. One hopes they can track her down and patch things up. They shouldn't take ruining a New Year's Eve so lightly.
h/t Mashable
Sign up here for our daily Thrillist email, and get your fix of the best in food/drink/fun.
Dustin Nelson is a News Writer with Thrillist. He holds a Guinness World Record but has never met the fingernail lady. He's written for Sports Illustrated, Rolling Stone, Men's Journal, The Rumpus, and other digital wonderlands. Follow him @dlukenelson.