A 'Malcolm in the Middle' Reunion May Be in the Works, Says Bryan Cranston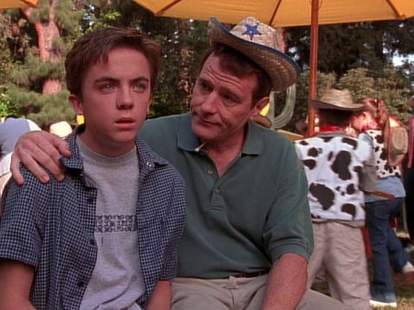 Spending time at the Maui Film Festival, Hal Bryan Cranston told E! News "there's a possibility" a Malcolm in the Middle reunion show may come together. "I sure hope so," he said when asked if there's a reunion in his future.
Now off the air for a decade, what seemed like a throw away question turned into a surprisingly substantive answer. "I really do [hope so], for no other reason than that I miss those people like crazy and I stay in touch with them... I'd love to."
"There's a possibility. We want to start talking about the possibility of putting together a story that makes sense about that family 10 years or 12 years later," said Cranston.
It doesn't seem like an outlandish premise, given the success of shows built on a similar style of reboot, like The X-Files, Gilmore Girls, Netflix's Fuller House, or even the upcoming Independence Day continuation. "You and I have seen this business change before our eyes," Cranston told E!'s Mark Malkin. "I don't know how it works. I don't know how everything works anymore but all I want to do is tell the story and have a good experience."
While there haven't been any new Malcolm episodes since the show went off the air in 2006, and there's no guarantee that this is happening, we did have that brief moment when Cranston and Kaczmarek reunited to make an alternate ending to Breaking Bad. 
Always remember the good times.
Sign up here for our daily Thrillist email, and get your fix of the best in food/drink/fun.
Dustin Nelson is a News Writer with Thrillist. He is pro-
Malcolm in the Middle
reunion. Follow him @dlukenelson.