Bromances Are Good for Your Health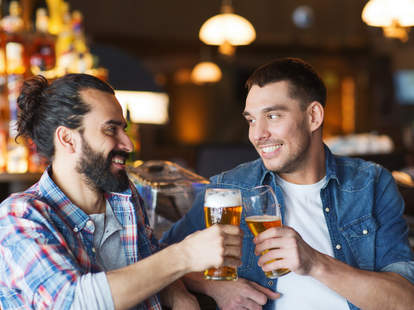 Not only is it totally normal to have a few beers with your best bro to talk about how Jennifer Aniston was criminally underrated in He's Just Not That into You, it's also good for your health. Although that thing about Jennifer Aniston is weird.
According to a study conducted by the University of California, Berkeley, there's growing evidence that bromances will decrease your stress levels and lead to a happier, healthier life. A study of male rats found that when they were forced to hang out in the same cage as their male rat companions, their oxytocin levels increased. This is wonderful news for anyone with a long-time male bestie, as high oxytocin levels are proven to help with bonding and socializing, which in turn battle stress. Go ahead. Give that special dude a bro-hug. 
Elizabeth Kirby, the study's lead author, explained that "Males are getting a bad rap when you look at animal models of social interactions, because they are assumed to be instinctively aggressive. But even rats can have a good cuddle – essentially a male-male bromance – to help recover from a bad day." She added, "If rats can do it, men can do it too."
Always remember that sometimes rats cuddle, and that's totally cool. And if it's good enough for rats, it's good enough for you.*

*This is terrible life advice
Sign up here for our daily Thrillist email, and get your fix of the best in food/drink/fun.
Kara King is a News Writer at Thrillist and hates cuddling. Send news tips to news@thrillist.com and follow her at @karatillie.