Starbucks is Getting Sued for Stealing the Unicorn Drink Idea
Although Starbucks' Unicorn Frappuccino was only officially available for a few days a couple weeks ago, it became a social media sensation unlike any the brand has ever seen, inspiring late-night shows, celebrity chefs, and even the company's own employees to weigh in on it. Now, a cafe in Brooklyn has taken a bold stand against the colorful limited edition blended beverage by suing the international coffee conglomerate for ripping off its' own Unicorn Latte, which has been on its menu since late last year.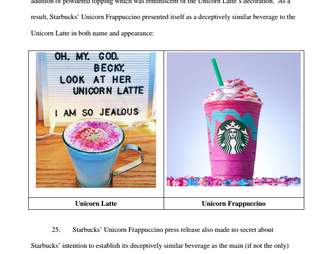 Screenshot from the official complaint

| Boies Schiller Flexner LLP
In a lawsuit filed May 3 in New York's Eastern District Court, Brooklyn-based The End cafe alleges that Starbucks' Unicorn Frappuccino "infringes" on its Unicorn Latte, which unlike the sugar-packed frapp, is a health-conscious drink made from fresh ingredients like cold-pressed ginger, lemon juice, dates, cashews, blended with dried maca root, blue-green algae, and vanilla bean. The End debuted it late last year, and it has since been its most successful product to date. It became so popular, in fact, that the cafe took steps to protect it by filing a trademark for the name in January. The End is suing for an undisclosed amount and a public apology. A #unicornfight is a brewin'!
"We developed the Unicorn Latte as a healthy and delicious product. The Unicorn Latte has been the most popular product we've created to date, so we were shocked and disappointed when Starbucks came out with the Unicorn Frappuccino, which is similar to our product in name and appearance, but has none of its healthy ingredients," The End's co-owner Bret Caretsky said in a statement.
The cafe's Unicorn Latte became a social media hit in its own right back in December 2016, joining the ranks of many other absurd Unicorn-themed foods that've been riding a whimsical viral wave online. However, The End is accusing Starbucks of severely overshadowing it in those same social channels and thereby "severely damaging" its mark. 
According to CNBC, Starbucks says the lawsuit has no merit. We've reached out to the company for further comment, and will post any updates here.
h/tCNBC
Sign up here for our daily Thrillist email and subscribe here for our YouTube channel to get your fix of the best in food/drink/fun.