Burrito Hero Bruce Wayne Finally Done After Eating Chipotle 500 Days Straight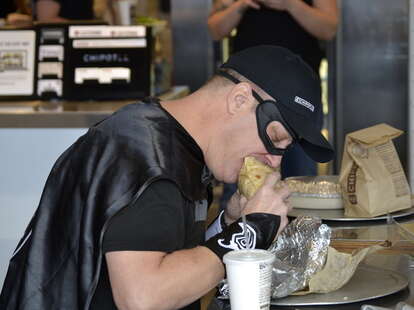 courtesy chipotle
courtesy chipotle
A man with a fondness for burritos and the same name as one very enigmatic caped crusader has finally had enough Chipotle. Earlier this year, Tiffin, Ohio's Bruce Wayne entered the rarified air of Chipotle champions when he became the first person to eat at the chain for 426 consecutive days. Now, though, after spending 500 straight days gulping down copious amounts of faux-Mexican comfort, Mr. Wayne is ready to hang up his bat wings.
On Friday, he announced on Instagram that he was ending his prolific run after capturing the burrito milestone, but he did not go out without leaving an indelible imprint on fast food culture. Wayne described his 500-day stint as "an amazing journey." True to his name, he spent the last day at Chipotle wearing a full Batman costume, as if on a super hero's lunch break. He told local reporters that he ordered mini-quesadillas because "leather isn't very forgiving."
When he reached the 426-day milestone, Chipotle agreed to donate all the money Wayne spent at the restaurant to a charity of his choosing. Chipotle has since pledged a $4,260 donation to a cancer research group, in honor of the average $10 expense he paid during each visit.
Wayne embarked upon his journey on October 30, 2016, the same day that Chipotle announced it was opening a store in his hometown of Tiffrin, Ohio. Mr. Wayne found a way to adhere to his diet through Chipotle, and decided to become the company's unofficial mascot by beating the previous record of 425 straight days eating at the chain.
Free to pursue other avenues to gastronomic glory, Mr. Wayne can now take his bat-suit to another franchise restaurant, or perhaps the local mall.
Sign up here for our daily Thrillist email and subscribe here for our YouTube channel to get your fix of the best in food/drink/fun.
 
Sam Blum is a News Staff Writer for Thrillist. He's also a martial arts and music nerd who appreciates a fine sandwich and cute dogs. Find his clips in The Guardian, Rolling Stone, The A.V. Club and Esquire. He's on Twitter @Blumnessmonster.