Everyone Is Getting 3 Free Bagels for This National Restaurant's Anniversary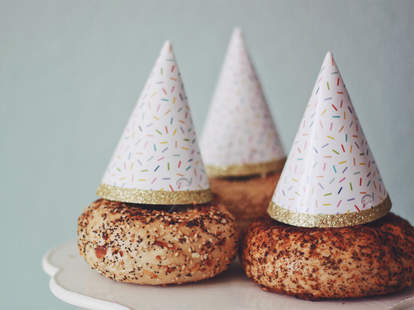 Everyone loves a good toroidal hunk of boiled bread in the morning. And no, there's no way to recreate the heavenly warm bagels you used to get on that corner when you lived in that other place. But that bagel is a white whale. It only exists in your mind.
Since you'll never find that white whale (try Tompkins Square Bagels), get after a solid freebie from Bruegger's Bagels this week. The bageleria is celebrating its 35th anniversary. In honor of its sesame seed anniversary (pretty sure that's what you call the 35th anniversary), you can get three free bagels on February 1. 
All you have to do to get on the free bagel train is head to the Brugger's site and drop your email in the pop-up form. You'll get a coupon in your inbox and, eventually, bagels in your craw. Bring the coupon into a Brugger's before 11am on February 1, and you're in bagel business. (Though, you do have to pay for the cream cheese.) 
Oh, and there are bonus bagels to be had. If you haven't signed up for the Bruegger's newsletter, they'll give you a coupon for a free bagel. That's four free bagels, and all you have to give up is your email and your zip code. The latter is so you can find the bagels nearest to your bagel-less stomach. You're in especially good shape if you are in Bruegger's Bottomless Coffee Club. 
Sign up here for our daily Thrillist email, and get your fix of the best in food/drink/fun.
Dustin Nelson is a News Writer with Thrillist. He holds a Guinness World Record but has never met the fingernail lady. Follow him @dlukenelson.