Bud Light Seltzer Is Introducing 4 Boozy Lemonade Flavors
2021 is already looking up.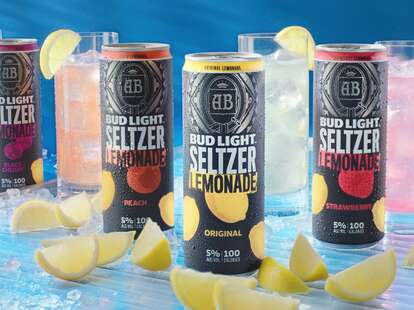 Courtesy of Bud Light Seltzer
With the COVID-19 vaccine rollout underway, there's a glimmer of hope that we'll find ourselves in overcrowded dive bars again before 2021 is over. But that remains a big "if," and until Dr. Fauci himself is throwing back tequila shots at his local watering hole, we'll have to keep drinking from the comforts of our couch.
At least we can do so with Bud Light Seltzer's latest flavors. The boozy bubbly maker is expanding its portfolio with four all-new lemonade flavors. Set to hit store shelves January 18, the company's latest launch is brewed with real lemonade, cane sugar, natural fruit flavors, and it clocks in at 100 calories per can.
The Bud Light Lemonade will be available in 12-ounce slim can 12-packs with all four flavors: Original Lemonade, Black Cherry Lemonade, Strawberry Lemonade, and Peach Lemonade.
Of course, Bud Light isn't the first seltzer brand to take on hard lemonade. This time last year, Truly unveiled its own version in Original, Black Cherry, Mango, and Strawberry Lemonade flavors.
"We took the feedback from drinkers and created Truly Lemonade for those looking for more flavor than traditional hard seltzer yet not willing to compromise on calories, carbs or sugar," Senior Manager of Product Development Casey O'Neill said in a statement at the time. "It really is the best of both worlds and brings together flavor and refreshment in a way that nothing else in the category does right now. Drinkers will have to taste it to believe it, but we're confident they'll love Truly Lemonade as much as we do."
Sign up here for our daily Thrillist email and subscribe here for our YouTube channel to get your fix of the best in food/drink/fun.
Megan Schaltegger is a staff writer at Thrillist.