Bud Light Seltzer Is Officially a Real Thing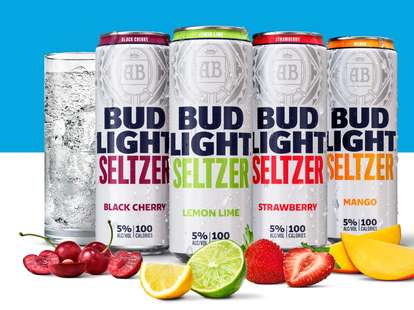 Courtesy of Bud Light
Courtesy of Bud Light
It's been rumored to be in the works for a while, but on November 6, Bud Light made it official. Dilly Dilly Seltzer (er, I mean, Bud Light Seltzer) is real, and that's a big deal for shippers hoping that White Claw and Bud Light were going to have babies.
Some still think hard seltzer is a fad bound to languish on the rubbish heap that contains hard soda, Zima, and other beer-adjacent relics, but the big beer companies disagree. They're all-in on hard seltzer. Bud Light Seltzer will be released in early 2020, per the company's announcement.
The 100-calorie, 5% ABV seltzer that's nearly sugar-free will come in four flavors: Black Cherry, Lemon Lime, Strawberry, and Mango. Though you've surely got jokes about how Bud Light was already so watery it was like a seltzer, the real seltzer isn't actually going to be like Bud Light. It's, well, a seltzer. You'll be able to imbibe the big beer bubbly water in a 25-ounce can, single flavor 12 packs, and a variety 12-pack.
Everyone knew it was going to be the summer of hard seltzer, but it might wind up being the year of hard seltzer. It has only gained traction throughout 2019. One of the major catalysts for change in that space over the coming year is that White Claw currently has 54% of hard seltzer sales, according to an analysis of Nielsen data from Beer Marketer's Insights. That's made by Mark Anthony Brands, makers for Mike's Hard Lemonade. Second in the market is Boston Beer's Truly Hard Seltzer at 29%. Anheuser Busch InBev, makers of Budweiser and Bud Light, want to sit on top of the bubbly pile and its Bon & Viv is taking in just 7.4% of the market right now.
"As the leading brand in the beer category, Bud Light has continued to evolve to meet the needs and changing demands of our consumers. Today, we're excited to announce Bud Light Seltzer — an easy-drinking hard seltzer with a hint of delicious fruit flavor to deliver the most refreshing taste possible," Andy Goeler, vice president of marketing for Bud Light, said. "Our brewing team created the perfect hard seltzer for any occasion using a unique five-step filtration process and the highest quality ingredients like sparkling water, real cane sugar, and natural fruit flavor. Seltzer has brought excitement to the entire category and brought consumers back to beer. We are looking forward to leveraging the power of the Bud Light brand to help grow the category."
AB InBev has already made plays to find a winner prior to Bud Light Seltzer. It purchased SpikedSeltzer in 2016, rebranding it as Bon & Viv. It announced a Natty Light Seltzer back in August, and there are reports that Stella Artois Hard Seltzer might be coming in 2020.
If you thought hard seltzer and White Claw were inescapable in 2019, wait until Bud Light puts its seltzer all over the Super Bowl and every other sporting event. It's a hard seltzer life, for us.
Sign up here for our daily Thrillist email and subscribe here for our YouTube channel to get your fix of the best in food/drink/fun.