Bud Light Is Selling Heart-Shaped Boxes of Beer for Valentine's Day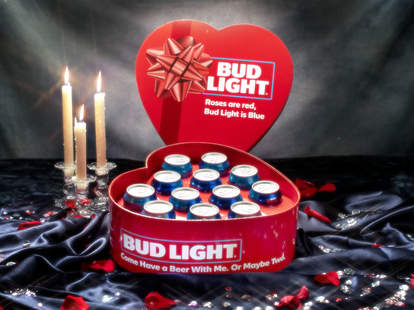 Thanks for all of the very specific Valentine's Day product gimmicks that arrive this time of year, shopping for your significant other can be quite the task. Do you go the breadstick bouquet route? Opt for that holiday-themed package of Cheddar Bay Biscuits. Or give the gift that just keeps on giving: a heart-shaped box of Bud Light. 
Just in time for February 14, the ubiquitous light lager has made picking up a 12-pack slightly more romantic. The red, heart-shaped box -- scrawled with "roses are red, Bud Light is blue" -- holds a dozen beers and it's arguably much better than the usual overpriced chocolates or roses.
The company summed it up on Instagram: "The perfect Valentine's gift doesn't exist...," Bud Light wrote. "Us: Hold 12 of our beers."
While the beer is sold separately (you can spring for the $10 12-pack for love), the Valentine's box is available online for $25. "Give the Bud Light lover in your life a gift they can drink this Valentines Day with a heart shaped box outfitted to hold 12 ice cold Bud Lights!" the product description reads. 
The shop is filled with other Bud Light merch, too. Toss in that "crispy boy" crew sweater, a speaker that looks just like that iconic can, or a personalized beer bottle label. The options are endless.
Sign up here for our daily Thrillist email and subscribe here for our YouTube channel to get your fix of the best in food/drink/fun.
Megan Schaltegger is a staff writer at Thrillist. Follow her @MegSchaltegger.