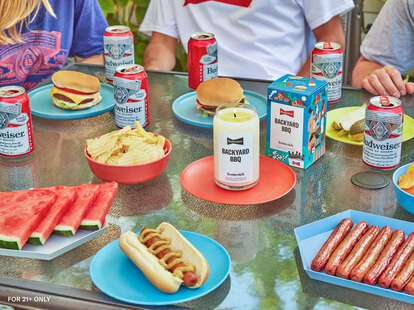 Courtesy of Budweiser / Homesick
Summer may be drawing to a close, but that doesn't mean it has to end. Not really, anyway, with Budweiser teaming up with candle brand Homesick to create a candle that instantly evokes the specific scent of the season.
The limited-edition Backyard BBQ Candle, which retails for $34.99, appears to be the perfect ode to your summer plans. And the company claims that it smells, as expected, like food on the grill and a fresh-out-of-the-cooler Budweiser.
"We love capturing the moments that matter most through scent, so we had a blast working with Budweiser on this collaboration," Lauren Lamagna, a general manager from Homesick, said in a press release. "So many of our favorite summer memories involve BBQ and Bud, meaning we had a ton of personal experience to draw on creating these candles. We hope the fans love them as much as we do."
This way, once the season does turn, and you're stuck inside huddled under a blanket, you can close your eyes and imagine a better time, whether that involves shoving hotdogs in your mouth and shotgunning beers, or, you know, a more classy experience like sipping a beer while dining on elevated barbecue fare. Whatever floats your boat.
The candle is currently available on the Homesick site and boasts a reported 60 to 80 hours of burn time. It features notes of lemonade, amber, clove, barbecue smoke, allspice, barley, vanilla, and musk and is made from natural soy wax and custom fragrance.
Megan Schaltegger is a staff writer at Thrillist.